Before & After: Tiffany Gives A New Orleans Shotgun New Life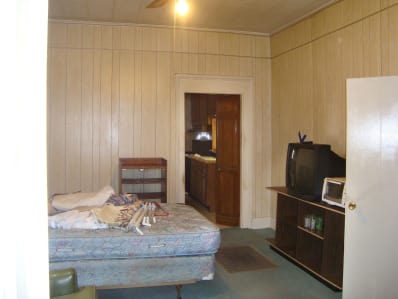 (Image credit: Contributed by Homeowner)
When Tiffany Napper bought this New Orleans shotgun in 2010, she had major work cut out for her. The house – previously owned by a 93-year-old woman who had been born in the house and lived there until she died – had drop ceilings, faux wood paneling, and dirty wall-to-wall carpeting. The narrow 1400-square-foot structure had a small dark kitchen, one tiny bathroom, and four small bedrooms sandwiched together without a hallway.
Tiffany, working with her parents and a team contractors, transformed this chopped-up space into a bright and airy two-bedroom home. They gutted the house down to the bones, removed walls, raised the ceilings, and reinforced the foundation. The house needed new electrical wiring and plumbing, central air and heat, and a new roof. They added a hallway, created a large, eat-in kitchen and converted a narrow unused space into a beautiful master bathroom.
(Image credit: Contributed by Homeowner)
Thank you Tiffany!