Before & After: A Light & Bright Laundry Room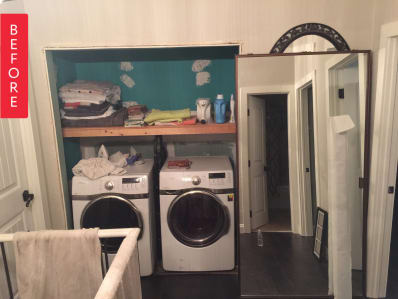 (Image credit: Submitted by Sara)
When it comes to Laundry Rooms, they tend to occupy the "out of sight, out of mind" spots in our homes. But after upgrading to a front loading Washer and Dryer that led to the removal of her closet doors, Sarah suddenly found herself airing her dirty laundry (sorry) at the top of her stairs.
(Image credit: Submitted by Sara)
From Sara: When I bought my house I initially had the old school top load Washer and Dryers in a closet upstairs by all the bedrooms. This closet suddenly became too shallow/ not deep enough when I upgraded my W/D to the front loaders. The laundry closet doors had to be removed, plumbing recessed and there was also a lip on the floors where the old W/D sat behind - that also had to be torn out in order to fit these new, larger W/D (sigh). Once that was all done I painted it this (what I thought was a fun) green color. I was so over this project for a long time and just gave up on it.
Eventually I realized that because I could no longer have doors on this laundry "room" it had become the main focal point when you walked up my stairs. Something had to be done! I bought some old windows from an old torn down house, sanded them down, stained them, then painted over them in white and sanded the edges to give it a shabby chic look. These were going to be my cabinet doors. I also bought wallpaper on Etsy to put up on the back of the wall and had my dad help with building some shelves, put up some trim and went for an all white, brighter look. Now it's less painful to walk up my stairs and look at my laundry room :)
Thank you, Sara!