Before and After: A 100-Year-Old House Gets Rejuvenated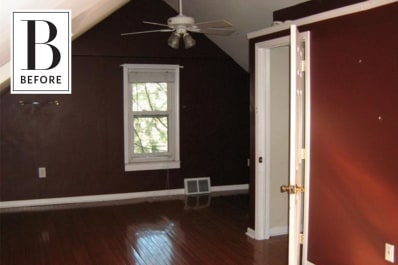 (Image credit: Listing)
Meg and Joe are both graphic designers. They bought this house in Detroit about a year ago. Though their budget was small, they were able to refresh the whole house thanks to fresh paint. And they made the home their own by adding in personal objects with history, as well as art made by themselves or friends. The couple says the entire house is still a work in progress, but that's what they like about it: They're making the house their own home.
"Be patient and take your time. When we first moved in, we wanted to have it furnished so quickly that we felt we had to get it all done at once. For us, it became important to pick items that were true to our style and held meaning to us. You also don't have to spend a lot of money," advise the couple in their house tour survey.
Each room in Meg and Joe's house was tackled. The bedroom got a clean coat of white paint (Behr's Ultra Pure White) to cover the dark paint that was already there. Just that small action alone helped make the master bedroom look larger.
The West Elm sofa's leather is a great complement to the fireplace brick. A bold black and white rug adds graphic pattern to the living room.
The house itself doesn't have a lot of decorative architectural elements, but the wood furniture gives character to the space.
"We have AMAZING families who have helped us immensely along the way, and we couldn't have done what we have without them. With our charming old house comes charming old floors, which proves challenging for items like our credenza that has our TV on it. Also rugs — with two dogs we don't spend much on rugs and it can get tricky finding rugs that fit our aesthetic and budget."
You can see all of Meg and Joe's Detroit home in their house tour → Mid-Century Meets Vintage in the Michigan Home of Two Graphic Designers
Thank you, Meg and Joe!
---