Before and After: A Boring, Small Cook Space Gets a Bold Green Glow-Up from Instagram's Most Famous Kitchen Designers
We
independently
select these products—if you buy from one of our links, we may earn a commission. All prices were accurate at the time of publishing.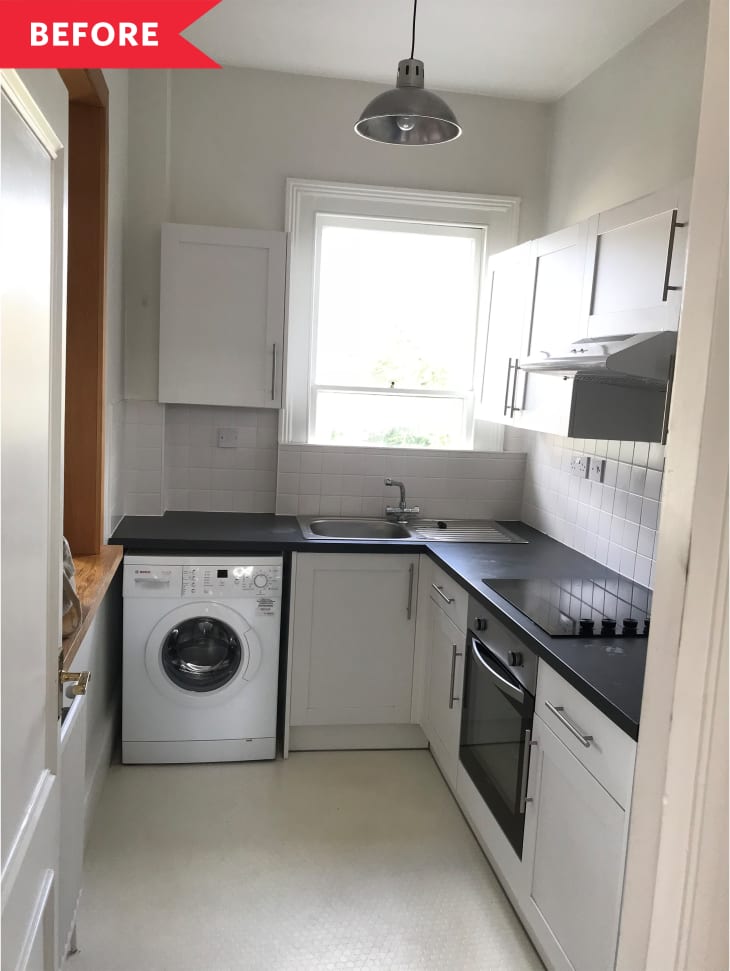 A dream kitchen doesn't always have to be massive; sometimes it's about the attention to design details as opposed to a gluttony of square footage. That's the lesson these English homeowners learned firsthand by enlisting deVOL Kitchens — maybe Instagram's most famous kitchen designers — to turn their townhouse's small galley into an open, L-shaped cook space with plenty of personality. Sure, a wall came down, and the new footprint stole a little space from a nearby room. On the whole, though, the kitchen didn't become much larger, and there's no colossal island to be found. Instead, in terms of decorative impact, this pint-sized space actually stands up stylistically to deVOL's much larger, most iconic green kitchen from 2016, and that's because its dramatic finishes, strategic layout, and optical paint illusion come together to marry form and fuction.
All that aside, it's not like the bones of the original kitchen were bad from the get-go. "The space has lovely high ceilings and shuttered windows, and we knew we could create a great kitchen with this space as a starting point," says Amelia Bur, a senior deVOL designer and manager of the brand's St. John's Square showroom in London. To that end, deVOL decided to build up instead of out with cabinetry along the kitchen's existing long wall to maximize storage opportunities. In order to visually open up the space first though, they had the kitchen's original door entrance and left-hand partial wall (which featured a large cut-out with a view of family's dining area and sofa setup) removed.
With this now airy, L-shaped layout, deVOL could focus on functional fixtures and high-impact finishes. From the very beginning, the homeowners had a clear vision of what they wanted. "Details such as the tall stone backsplash against a dark cabinet color is an element of the design that was consistent through all versions of the design right from day one," says Bur. After settling on Statuarietto marble for the counters and backsplash as well as deVOL's The Real Shaker Kitchen cabinetry painted in a rich, emerald hue, mapping out the placement of everything became the next task.
To devote more dollars to stunning stone surfaces and open shelving, deVOL decided to leave the original window as is. The washer/dryer was relocated, and a smaller but more dramatic fluted deVOL sink was selected to echo the shutters, bringing a touch of modern urbanity to these farmhouse-style features. Shifting the sink slightly over to the left allowed for more uninterrupted counter space on both sides of it, making the most of the kitchen's limited surfaces so all members of the family can get involved with cooking and prep. New herringbone flooring was installed to tie the once separate kitchen and living/dining areas together visually.
As for the cabinetry, deVOL made a few strategic moves to stay in budget. The long run of Shaker drawers and pantry cupboards with an integrated fridge and freezer certainly looks dramatic and packs plenty of storage, but you'll notice it doesn't quite fill the entire space. Instead of the family splurging on something bespoke, deVOL used their standard-sized cabinetry, opting to paint the wall behind it same stunning emerald hue to fool-the-eye into seeing a soaring, celling-high installation. New crown molding lends the room a finished look, further closing in on the small gap between the cabinets and ceiling. Double-stacked Miele ovens and a counter cooktop don't take up an inch of floorspace, so the room doesn't feel visually cluttered with appliances either.
Then came the truly fun part: that last layer of decoration in the space. "The accessories for a kitchen can make all the difference, and the deVOL brass details in this kitchen are an important part of the final look," says Bur. The deVOL in-house collection of bin pulls, open shelving brackets, faucets, and knobs/latches used in this project warm up the striking stone features and dark palette. You'd also be hard-pressed to find a deVOL kitchen without an oil painting or two, which add an extra hit of color, artistry, and personality to the space. Other accessories, too, provide more than just good looks. Taper candles, for example, emit a soft, atmospheric glow beneath a trio of task pendant lights, spaced and hung to illuminate the cooktop and counters. Eucalyptus, placed atop a stretch of open shelving, is fragrant but won't fight the scent of a home-cooked meal or cookies baking.
Maybe that's the key to this project in the end — the fact that it's a true marriage of form and function, really from floor to (almost) ceiling. "The kitchen is part of a family home, so it has to work hard and be practical," says Bur. "Together we've created a space that meets those requirements as well as being a beautiful part of the home."