Before and After: A Budget-Friendly, Bright and Airy Kitchen Is a Fresh Start for a New Mother
We independently select these products—if you buy from one of our links, we may earn a commission. All prices were accurate at the time of publishing.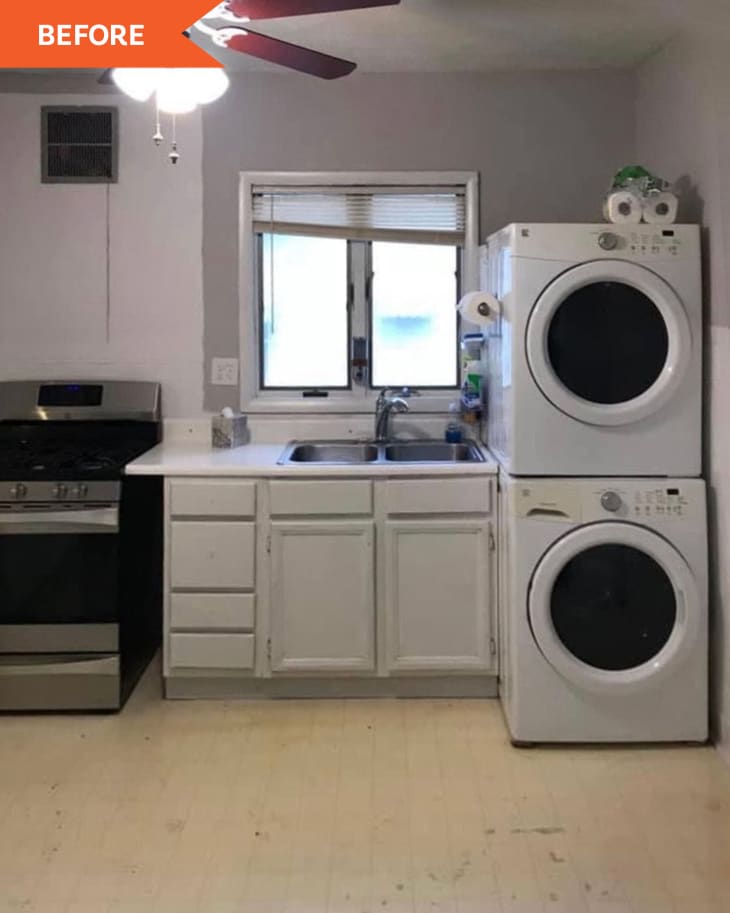 Sometimes the best way to cap off an eventful year is with a renovation. Just ask Brittany Black, a dental hygienist from Illinois, who went from being married and living with her husband to back at home temporarily with her parents — newly pregnant and putting in an offer on a space of her own and for her soon-to-be son — all within a calendar year. When her prospective house's inspection revealed a need for structural restorations, she pivoted immediately, serendipitously finding her now-home, a 1920s bungalow, on Facebook of all places. Black didn't bat an eye, and upon seeing the space, she was ready to hit the ground running to make it her own. "From all the stress of leaving my marriage, my pregnancy, the divorce, and now having Sebastian here Earth-side, I needed and wanted a space that provided a calmness to all the chaos," says Black. "It was my redo — literally, a new beginning."
Follow Topics for more like this
Follow for more stories like this
Despite its old house charm, the 1,200-square-foot home was in need of a total overhaul, particularly in the kitchen. "The inside felt very closed in — it was one of those houses where when you walked in, you could immediately tell which walls needed to be removed," says Black. "The potential was there, and for the most part, the layout was good, but the kitchen absolutely had to be reconfigured and gutted."
For Black, the first kitchen non-negotiable came down to function. A washer and dryer were stacked in a corner, and the original footprint didn't even have a refrigerator! The layout — as well as a few other older house quirks — didn't help the space's case either. "The kitchen was completely closed off from the dining/living room, and an extension cord coming up from the basement was powering a microwave in a corner, " says Black.
Fortunately, Black's father is a contractor by trade, so he and his crew got to work in between their other jobs, demoing the space by starting from the front of the home before working their way to the back and then ultimately the outside. Many structural changes took place to open up the floor plan, ultimately making the current kitchen with a breakfast bar peninsula possible.
The laundry appliances, relocated to a nook off of the living room, were the first thing to go. Next up was gutting the kitchen proper and removing the dividing wall that closed it off from the rest of the home. "Once the wall to the kitchen was gone, my mom and I had to design the whole kitchen and layout — new cabinets, appliances, counters, floors, and an over-the-sink window," says Black. "It was probably our hardest space to imagine. We were novices at designing kitchens, and the size with the openings that existed created unique spatial challenges." 
Black knew she wanted the design scheme to be a soothing mix of neutrals, so she set that tone right away with BOXI by Semihandmade cabinetry, which she helped hang herself alongside her father's crew. The wood grain effect of the Oat Slab panels creates this lovely light, airy framework for the kitchen that still delivers a lot of warmth — and storage — to the room. "I loved the luxury of a high-end look with the convenience of them being delivered quickly (just a few weeks from the time we ordered) and assembled," she says of her cabinets. Durable white quartz countertops as well as new matte white appliances from Café blend seamlessly into the kitchen, as does the space-saving, stacked white refrigerator and freezer by Smeg.
The walls in the space got a fresh coat of Sherwin-Williams' Maison Blanche (SW-7526), an almost honey-colored beige that complements the wood tones in the cabinetry. To create some oomph underfoot while still staying still in palette, Black went with The Tile Bar's geometric white and tan Pergola Wood Hexagon Matte Porcelain tile. She saved big on sleek gold pulls to customize the cabinet fronts and drawers by using a rebate from Menards. For that last bit of polish and texture, she installed a sculptural, four-bulb Litfad chandelier overhead and pulled two rattan counter stools up to the peninsula for a nice little dining spot.
The renovation was, of course, not without its challenges. "Because of Covid, the supply chain definitely made getting certain appliances and materials harder," says Black. "Wait times were a lot longer for windows, doors, and appliances. We ordered our appliances in February, and it was late August when we received them."
The sewer lines and electric in the home also had to get updated, and the house wasn't level, meaning projects took longer in general. Black didn't let that get in her way though, and she was willing to pitch in alongside the crew to get the whole home redo across the finish line, which took about eight months total.
Modern, warm, and kid-friendly, the kitchen's now Black's favorite space in the entire home. "I love being able to prepare meals and still engage with my son as he pulls out every toy imaginable," she says of the space. "It was a family affair, and it means so much that this space was created with so much love and intention. It's definitely already full of memories with many more to come."