Before & After: A Compact Green Kitchen Renovation
We independently select these products—if you buy from one of our links, we may earn a commission. All prices were accurate at the time of publishing.
Name: Stephanie Rearick and Jon Hain
Location: Madison, Wisconsin
Years lived in: 20
Stephanie and Jon had wanted to redo the kitchen in their 680-square-foot Madison home for 18 years. They knew the space was sad; as it was, there was little storage and workspace, cabinet doors didn't close, and the room lacked any and all personality. Then they saw that, thanks to a grant, a local green-building consulting firm was offering design plans at a discount. The result: a kitchen with improved functionality and a look as fresh as a blue sky on a sunny day. See all the after photos below!
Stephanie and Jon were already living the green life when they decided to renovate their kitchen. Living on a bike path, they walk or cycle to their workplaces. Both are leaders in non-profit "time bank" organizations that allow members to exchange services through mutual credit programs. They are also small business owners, so thinking about efficiency, sustainability—and tight budgets—comes naturally.
Madison Environmental Group drew up plans for making better use of the couple's tight kitchen space. Stephanie and Jon took it from there, adapting things and executing the work with help of talented craftspeople.
While the footprint didn't change, everything else did. A solar tube now lets in sunshine. Recycled glass tiles make a bright blue-and-white backsplash. Cabinet doors were crafted out of salvaged windows. Wood flooring came from Habitat ReStore.
A few creative touches add even more personality. Jon turned a bike wheel into a pot rack, and trompe l'oeil molding brought character to a boring back door. An Apartment Therapy post inspired the dish-drain shelf over the sink. And a savvy carpenter had the idea to set the Sun Frost fridge back into the wall to gain extra floor space.
View The AFTER Photo Gallery
Our style: sunny, pretty…nice but not too fancy
Inspiration: honestly, whatever we think looks good in the moment
Favorite Element: solar tube light
Biggest Challenge: Getting around to doing it! Money and time were the two biggest factors.
What Friends Say: It's pretty.
Proudest DIY: Jon made the pot rack from a bike wheel.
Biggest Indulgence: expensive counter top
Best Advice: put a dish rack in the cupboard above the sink
Green Elements/Initiatives:

wood floor from Habitat ReStore

cupboard doors made from salvaged windows

counter is recycled glass in concrete

backsplash is recycled glass

pot rack is a recycled (get it?) bike wheel

fridge is a very efficient Sun Frost

added a solar tube for better daylighting

We have no dishwasher or garbage disposal.

Instead of replacing the pantry door, we painted the old one in an interesting way.

We bought the dishes from an antique mall.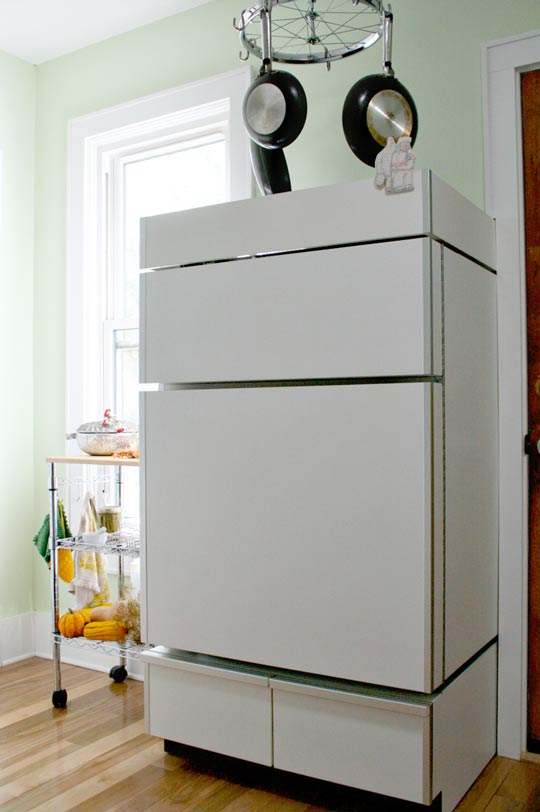 Resources: Sun Frost refrigerator
Counter: Icestone
Backsplash: Eco-Friendly Flooring
Lighting: LED under-counter lights
Flooring: Habitat for Humanity of Dane County ReStore
Design: Madison Environmental Group
Other: Dane County Time Bank
(Thanks, Stephanie and Jon!)
(Images: Before by Sonya Newenhouse, After by Therese Maring)