Before and After: A Kitchen Reno That Didn't Break the Bank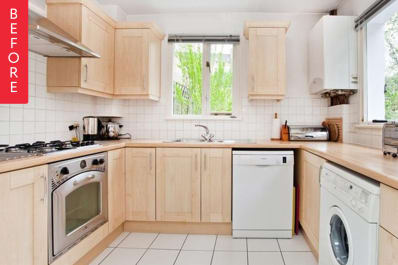 (Image credit: Nisha Stevens)
You may remember Nisha and Tim Stevens' house in South East London. Having spent most of their budget buying the house, Nisha and Tim had to be creative when it came to decorating. Luckily the couple is pretty handy and they saved a lot of money by renovating most of their old kitchen themselves.
Nisha's Advice: Paint an ugly kitchen worktop with an oil based blackboard paint. Ours was a not-very-nice wood-look laminate which we sanded back and then painted. It was much cheaper than replacing it and gives a completely new, and very practical, look. If for whatever reason it starts looking a bit tired, you can simply re-paint. I love it!"
They also hired a carpenter to build the open shelves after ripping out the old top units, which really opens up the space. The beautiful tiles that Nisha found in Istanbul (whilst on a DJ job!) completed the look.
Thank you Nisha!