Before and After: A London Studio Apartment's Total Transformation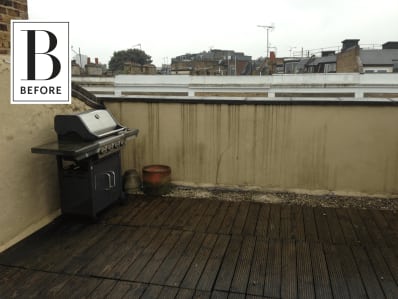 (Image credit: Courtesy of Julia Maile)
There are remodels...and then there are total transformations. Julia and Kurt bought a run-down studio apartment nine years ago. The layout was weird and it was on the teeny side. But instead of just improving the look of the current home's foot print, they thought outside of the box! They decided to take over the home's huge rooftop terrace to convert their studio apartment into a two-level, two-bedroom modern home.
(Image credit: Submitted by Julia Maile )
Originally all the living spaces were on one level. But now, the home is split between the second floor (they enter the home on the first floor on the street level before walking upstairs), where two bedrooms, a bathroom and a tiny office area are located. Up another flight of stairs and you're on the main living level where the living room, kitchen and dining room is located. This top level used to be an old — but huge — rooftop terrace.
(Image credit: Submitted by Julia Maile )
Because so much of the home's floor plan changed, you won't be able to necessarily see "side-by-side" before and after photographs of their home...simply too much has been altered. But you can see just what a dramatic transformation the small home — only 620 square feet even after the expansion — has had by looking through these before shots.
(Image credit: Submitted by Julia Maile )
The layout of the space wasn't just updated, the aesthetics were, as well. The goal was a clean, uncluttered and modern look. But bringing more light and life into the space was important to the couple, as well.
"I'm from New Zealand and Kurt is from Australia and we both hanker after the kind of outdoorsy living we grew up with, so we tried to re-create it as best we could in a tiny central London flat with no garden."
(Image credit: Submitted by Julia Maile )
The biggest and most impressive element is the amazing sliding door/roof that divided the living room from the tiny new terrace...and floods the home with sunlight and beautiful views. The architects the couple hired came up with the unique architectural idea when the couple discovered their neighborhood had strict building codes.
"The property is in a conservation area — an area considered worthy of preservation because of its special architectural and historic interest — so that meant the new extension was not allowed to be visible from the street. Our architects were very creative and came up with a unique design for a glass extension with a sliding roof and door and dubbed the project 'The Invisible House.'"
(Image credit: Submitted by Julia Maile )
"The terrace has a south westerly aspect so gets beautiful afternoon sun and we're treated to beautiful sunsets over the church spire down the road."
Thank you Julia and Kurt!