Before and After: A Plain but Pretty Bedroom Gets a Renter-Friendly, DIY Wallpaper Makeover In Just Four Hours
We
independently
select these products—if you buy from one of our links, we may earn a commission. All prices were accurate at the time of publishing.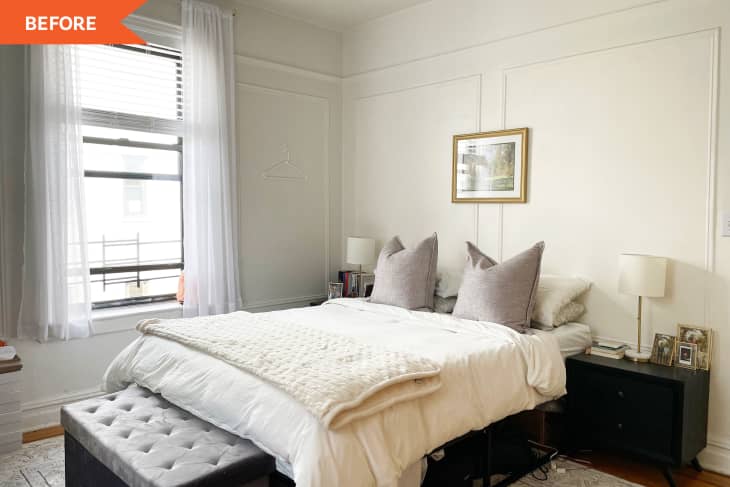 Home decor Instagrammer Madeline Scalzi has always appreciated her New York City apartment's Parisian look, thanks to its picture frame molding and pre-war details. While she's made an array of improvements to the space — from covering her kitchen cabinets with contact paper to completing a $125 bathroom makeover — Scalzi struggled with adding oomph to her bedroom.
"I went back and forth for months just staring at the empty space above our bed, debating adding a larger piece of art or wallpaper or simply painting the entire room," she says. While perusing Instagram one day, inspiration finally struck when Scalzi came across a photo of designer Kathy Kuo's entry wallpaper murals (shown below). Wallpaper it would be!
Eager to tackle her walls, Scalzi knew whatever she did to her space would have to be renter-friendly. Using peel-and-stick wallpaper crossed Scalzi's mind, as did installing traditional wallpaper using what she refers to as the "liquid starch hack" (many DIYers take this approach when adhering fabric to their rental walls, too!). "Eventually, I fell in love with this monochrome landscape from Photowall Sweden and knew I would be taking the liquid starch route," Scalzi says. One note: This liquid starch mounting method only works with non-pasted wallpaper.
Many people choose to install picture frame molding themselves. Because Scalzi's is original to her apartment, she was already a step ahead of the curve with this kind of project but would need to work within the existing frames themselves for measurement and installation. "The most important part was measuring the wallpaper every step of the way," Scalzi notes. "Before I even ordered it, I triple-checked to make sure my measurements weren't going to fall short in either direction. After that, I even ordered about a foot extra on either side just to be safe."
Once the paper arrived, Scalzi measured and cut it to size. "Being in a small apartment, this was relatively tricky, so I had to spread things out on my bed and the floor to accommodate," she says. Looking back on what did and didn't work, Scalzi shares this pro tip: "Definitely cut the paper and match the pattern side-by-side on the floor before you start hanging the paper," she says. "It's much more difficult to realize halfway through that the paper doesn't align."
After Scalzi decided where each panel would go and cut it to size, it was time for the installation process. "I rolled my paint roller in a paint tray filled with liquid starch and applied a generous amount to the wall where the paper was going to hang," she says, noting that wallpaper should not be dripping wet — just damp enough to form a bond. "The liquid starch dries very quickly, so sometimes you will have to add a second coat toward the bottom of the wall as you go," Scalzi adds. "Always hang the paper from top to bottom of the wall." To keep costs down and create a true focal area, Scalzi decided to cover just the box panels behind the headboard of her bed and nightstand versus the entire room, since the molding continues around the perimeter of the space.
Once the paper hung within the molding frames, Scalzi made some quick touchups. "I pushed out any air or bubbles with a wallpaper smoothing tool, and then I used an X-Acto knife to carefully cut the paper along the bottom seam where the paper met the molding," she explains. "Note that if the paper is too wet, it will rip. I then repeated the same process for each panel."
If Scalzi chooses to relocate down the line, it'll be extremely easy for her to remove the wallpaper. "When you are moving out, just take a damp sponge to the wall, and it should come right off," she says. "And because [liquid starch] is traditionally made to use on clothes, if you get some on your shirt while you are working, it will come right out in the wash!"
Scalzi couldn't be happier with how much the wallpaper has elevated her sleep space. "I always thought I wanted an all-white bedroom, but being locked inside during the pandemic and working from home for days on end made me crave color and pattern again," she says. Plus, the fact that the wallpaper installation only took four or so hours total — making it one of Scalzi's quicker apartment projects — didn't hurt either. "This project made our bedroom a much more upscale, serene place to relax and spend time," says Scalzi. "My husband even said our bedroom looks like a hotel, which might be the biggest compliment of them all!"