Before & After: A Home Formerly Called "The Skittles" House Is Now Light and Bright
We
independently
select these products—if you buy from one of our links, we may earn a commission. All prices were accurate at the time of publishing.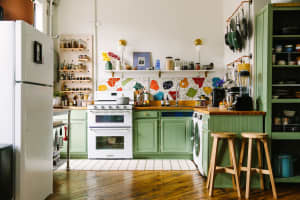 Can't-Miss House Tours Straight to Your Inbox
Keep up with our latest house tours each weekday with our House Tour of the Day newsletter
Name: Ashley Amaral, my husband, Alipio. Our son Benny and our dog Georgie Girl
Location: Idaho Falls, Idaho
Size: 3,100 square feet
Years lived in: 4 years, owned
When my husband and I met we were both living in Europe and then our first few years of marriage we lived in Brazil. So this was our first home we bought together in the States. When we moved in it was referred to by the neighborhood as "the Skittles house" because it was every color of the rainbow! Honestly, it took a lot of focus and vision to see past the blue ceilings, red and green walls, electric blue base boards, and magenta colored staircase. It's been a labor of love and is still a constantly changing space.
I love to thrift things or DIY so our decor is always evolving. Ninety percent of what's in our home has been thrifted, found on the side of a road, secondhand, or made by us. I definitely think it's been a fun challenge to fill the house inexpensively and when those few indulgences come around they're worth it with all the money saved by scouring junk stores and repurposing secondhand items.
Since living here we've brought home our first baby, who is now an adventurous toddler, Benny James. It's been a lovely "family" home and our pup Georgy Girl also thinks it's very comfortable (as her favorite pastime is napping in any and every place). We love to cook and bake and entertain. So our home has definitely been a revolving door of get-togethers, extended visits or just backyard parties. We host "hootenanny" nights where everyone brings their own instrument and we play and sing until it's necessary to stop! My husband and I are both artists, even though I was the one who went to art school in college, he's actually a better painter than me! So our home is always a space where we're creating and making messes. I really love that the memories we've made in this home have been really joyful ones!
What is your favorite room and why? My favorite room is our loft bedroom. I love that tilted pivot window above our bed. When it rains you can smell the freshness, just like camping. And in the summer we stargaze. I also just love the idea that the loft is an entire floor just for my husband and me. His study is up in the alcove next to our bedroom and he's an avid reader and studier so whenever I'm working on a painting or editing photo shoots we can be in the same room but in our own spaces.
If you could magically change something about your home, what would it be? Our home is from the 1930s so even though we're actually pretty blessed with relatively ample closet space for an older home, I wish we had a bigger pantry! I love to bake and we make things that are vegan and allergy-friendly so just having so many ingredients and different flours, spices etc on hand at all times really takes up space! So I've had to get creative with the lack of pantry storage
What's the last thing you bought (or found!) for your home? The two small red woven Persian rugs that are under the guest bed and in the master bathroom next to the claw foot tub. I found rolled together at a thrift store for $19! I adore them! They needed some cleaning up, but I'm willing to put in elbow grease when it's a $19 dollar find!
Any advice for creating a home you love? I think with trends coming in and out so quickly, the best thing for me has been to follow my gut on what I love and what I think is timeless. There have been some upcycling projects I've done that, while in the middle of them, I keep thinking this was a bad idea, this is the wrong color etc. and if I just commit and finish it, it ends up being one of my favorite pieces in the house! Taking your time filling your home with things you love, one piece at a time. And not second guessing what you love.