Before and After: A Salvaged $20 Dresser Gets a High-End Glow Up for About $75
We independently select these products—if you buy from one of our links, we may earn a commission. All prices were accurate at the time of publishing.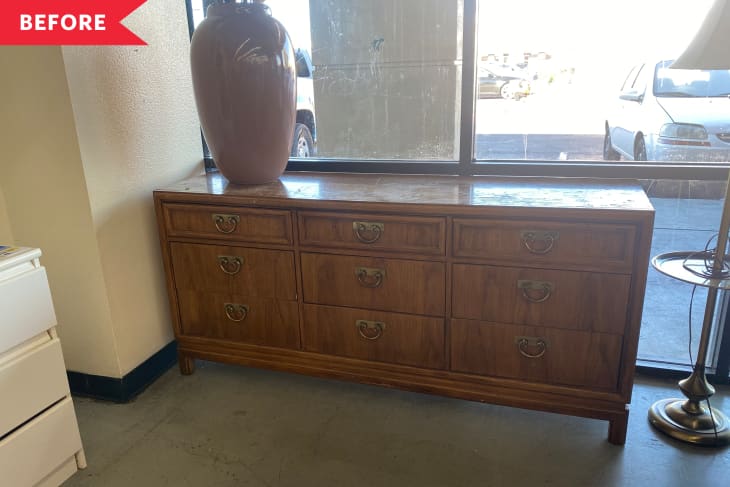 Scouting old pieces of furniture to rescue has been a favorite pastime of mine for as long as I can remember. And on a recent scavenger hunt, I came across a beefy Thomasville nine-drawer dresser in desperate need of a facelift. It had been seriously scuffed up, had a few deep scratches, was yellowed with age, and had some hideous, outdated handles. But it was a cool $17.50. I knew I could breathe new life into it, so I took it home.
I went back and forth on painting or staining this big dresser and ultimately landed on paint for a couple of reasons. First, I wanted it to serve as a true focal point — a vibrant hue would help it pop (especially since our floors are wood laminate). Second, I'd only gone the painting route once before (a white accent on a desk drawer) and wanted more practice. Finally, because of the detailed carvings, painting was going to be much easier than sanding all the way down and staining. 
To prep, I removed all the pulls and lightly sanded everything. I used a palm sander with anti-vibration gloves (a must) on the top, sides, and faces, and then went in with sanding sponges for the smaller details. Because I was painting, it wasn't a painstaking, laborious process. I mostly wanted to ensure the scuffs and scratches were buffed away and that I had a nice surface for the paint to stick to. (In hindsight, I should have used wood filler to fill in all the holes of the dresser, since my new pulls were a different size from the old ones, but I didn't realize they were different until after painting. If you're doing a similar project, fill the holes, re-drill new holes, and then paint).
At this point, I realized my mistake with the handles, so I filled, drilled, added another layer of paint and topcoat, and then added my handles. I chose these 5-inch, satin brass modern pulls from Amazon. Because the dresser needed to cure, I let it set for a week before moving it and then refrained from putting anything on top of it or in the drawers for about a month.
In total, I spent about $100 on supplies and the dresser itself — substantially less expensive than the $1,000-plus options I was eyeing in a similar style (like this one). I'm stoked with how it turned out, too. I am in love with the color and the way the new pulls look, and I feel great knowing that I saved an old piece.