Before & After: A Boring, Bland Rental Apartment's $20 (and Temporary!) Fireplace Fix
We independently select these products—if you buy from one of our links, we may earn a commission. All prices were accurate at the time of publishing.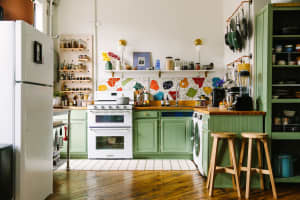 Can't-Miss House Tours Straight to Your Inbox
Keep up with our latest house tours each weekday with our House Tour of the Day newsletter
September is Transformation Month at Apartment Therapy! That means every day, we're sharing a new before & after to show the power of transformations at home. Head over here to see them all!
As far as ugly fireplace surrounds go, the one in Chicago-based interior designer Caroline Turner's rental apartment was pretty innocuous. Its greatest sin was just being incredibly bland, boring, and beige. While it certainly could have been left alone and worked around (in fact one of Caroline's expert tips for designing a rental is working with what you already have), Caroline instead made a small, affordable (only around $20!), but gorgeous update that elevates the fireplace, complements the rest of her decor, and adds a touch of elegance to the entire home.
She used removable contact paper from Amazon, individually cut to the same size as the fireplace surround tiles, to cover the offending beige and add white marble vibes to the space. "The contact paper is gridded on the back so I did a rough trace based on each tile size. I applied the paper on the tile corner and worked out any potential bubbles slowly with a credit card. Any excess contact paper, I cut off with an X-acto knife. I used the existing grout lines as my guides along the way," shared Caroline.
Combined with a white mantel from Home Depot (her landlord added it for her but she picked it out online), the entire fireplace has a much larger visual presence.
Because readers often have concerns about DIY projects that are on or near fireplaces, I asked Caroline about the safety of this project idea. "I consulted a contractor and online and no one could definitively tell me. I just decided to go for it and it has been totally fine. I use my fireplace almost everyday during the winter and it has not been a problem. The heat really doesn't reach the paper at all." I still recommend doing research on your type of fireplace and the contact paper you want to use to learn if it will be safe in your home. If you're not sure, consider another decorative solution, or as Caroline also suggests in her home tour, work with what you have instead.
Our Best Renter-Friendly Transformation Ideas
We have the best renter-friendly tips, tricks, and hacks to transform your rented space into a home. Sign up to get 8 days of our best non-permanent Before & After content delivered straight to your inbox.