The 4 Best Colors to Paint Your Shutters, According to Real Estate Agents
We independently select these products—if you buy from one of our links, we may earn a commission. All prices were accurate at the time of publishing.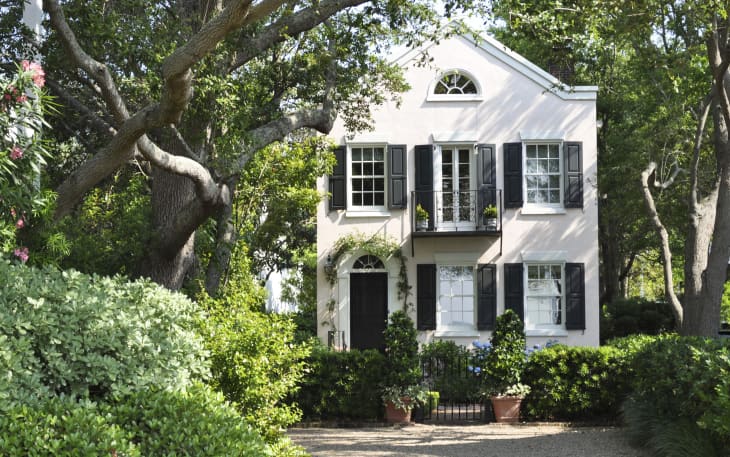 Surely every Apartment Therapy reader has heard of the fabulous designer Duarto Feliz… of "The First Wives Club" fame. As the film's three heroines (depicted by the iconic trio Goldie Hawn, Bette Midler, and Diane Keaton) attempt to escape from a high rise via window washing scaffolding, Feliz distracts the unsuspecting owners with this tried and true fact: "Windows are the eyes of a room… the valance is our eyebrows." But where does that leave shutters?
In my opinion, shutters are the eyelashes of the home that transform a structure from "just rolled out of bed" to "Madame, your car is here, and Mr. Chalamet is expecting you." All this pop culture gobbledygook to say: shutters elevate a home's curb appeal. And the color you choose for those shutters has a massive influence on the overall effect. I spoke with real estate experts to get their take on the best colors to choose for shutters that certainly would be Duarto Feliz-approved.
It's no big deal to take a favorite color, like bright yellow, and add it to a home's interior. It's a different story when considering a home's exterior palette. Zach Opheim, a Nashville-area real estate agent, sums up the issue, sharing, "Because this is such a personal preference decision, I think most homeowners are wise to go with a color that compliments the home color, a door paint color, or even the gutter color. What we don't want to see is a super bright contrasting color that doesn't follow the scheme of the home." 
It can be difficult to navigate pairing exterior, like brick or siding, with accents like shutters and trim. There is never any one option, which Chicago-based Realtor Amy Wu is seeing now in a newly constructed neighborhood. "Currently, I have clients buying new construction and they have decided to go with a beige color to go along with the red-brick exterior," Wu says. "Their neighbors decided to go with black shutters. The shutter color matches the color of the front door." Homeowners can meet with experts at home improvement stores or more specialized paint stores and ask for a plethora of options that are most likely to coordinate with the home's existing materials and aesthetic.
When you're stuck in a shutter rut and panicking about what step to take, there's a simple solution: neutrals. San Diego-based Realtor and president of Coastline Real Estate Group Shaylie Gilliland shares, "We always tell our sellers 'go neutral, go off-white' with the trim as well because that's something that universally people are going to like versus the darker takes." I realize that there are one million versions of "neutral" that are often barely distinguishable from one another except for names like Dove and Pigeon (a peaceful gray versus a nearly identical urban version?), and perhaps that's the beauty of the neutral solution: simplicity.
Opheim sums it up brilliantly when he says, "All in all, safe is always best if appealing to the masses is the end goal." You want resale value? A solid fix before listing? A lasting color you can assign the shutters and then forget about for eternity? Neutrals. 
If you're looking to add a pop of intrigue to a classic home or want to modernize your facade, go dark. "Modern homes have the ability to go dark or bright," Opheim says. Those considering lighter neutrals can explore some deeper darks for a crisp, sophisticated look. Plus, black is cozy, timeless, and trending. It might feel like a risky commitment, but it's definitely a risk worth taking.
In addition, depending on the climate, weather patterns, natural foliage in the area, or kids with a propensity for mischief, dark shutters may be easier than lighter colors to keep clean. I don't know about you, but in My House we love working smarter, not harder — and I guess that includes minimizing shutter maintenance.
What works in Chicago might differ from what works in Albuquerque, which might differ from what works in Boston. For those hoping to accentuate their regional vibe, whether for aesthetic reasons or logistical ones, there are shutter color options to explore. Opheim, who's shown his fair share of both modern and classic homes in the Nashville area, says, "a historic home may need to stick with a lighter neutral to keep the focus on the home vs. the colors." This is something to keep in mind for those maintaining the integrity of their home's historic value.
It's also critical to remember that shutters exist for a reason, and not simply as a window accessory. Gilliland shares that in her San Diego community, which has a massive condominium population, "With condos it's a little bit more difficult to capture the natural light, so it's extremely important to not have dark colors inside of a condo." Make your shutters work for you.
And frankly, those living in New Orleans can throw this entire article's advice away. No one wants to saunter along the French Quarter, footlong Hurricane in hand, past neutral shutters! The only neutral thing in the Big Easy should be the neutral ground. Show me the pinks! The oranges! The purples! At the end of the day, your shutters help your windows pop. If you're mindful of our experts' advice, you can't go wrong.