How to Find the Most Hackable IKEA Pieces, According to Seasoned IKEA Hackers
We independently select these products—if you buy from one of our links, we may earn a commission. All prices were accurate at the time of publishing.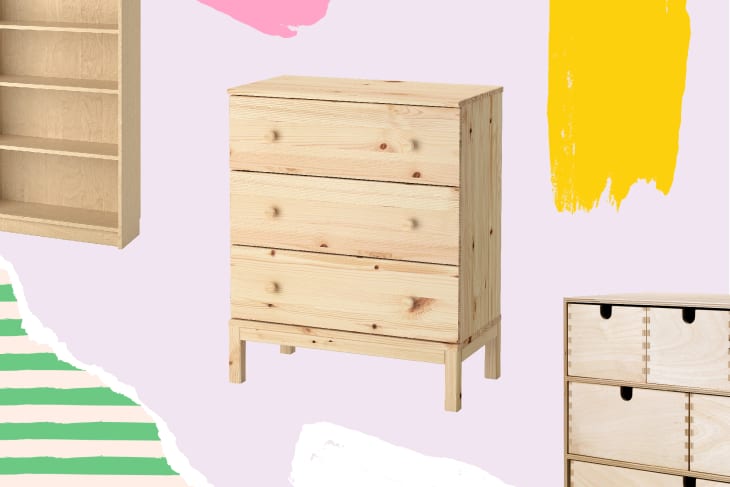 You've searched the entire internet for the perfect piece that will fit your space and budget, but… no luck. Time to get creative! And as seasoned DIYers and renovators know, one prime way to do that is with IKEA hacks—changing up off-the-shelf IKEA pieces with new legs, hardware, and more to turn them into a dreamy custom creation.
But when it comes to hacks, not every IKEA product is created equal. Some IKEA products are easier and more cost-effective to change up and personalize than others—owing to their construction, material, and other factors— and no one knows that better than experienced IKEA hackers. Here's what these pros advise when it comes to picking out a piece with prime hackability.
"For me, the whole point of an IKEA hack is to take advantage of the low product pricing, so it doesn't make sense to choose a hack with exorbitantly expensive materials," says Faith Towers-Provencher of Design Fixation. According to her, any product over $100 is out of the running.
Nomita Vaish-Taylor of Your DIY Family, on the other hand, does some number crunching. "The general rule I follow is that the total cost of the IKEA product plus all other materials should cost less than buying something similar." If she can't find a finished product that makes the most of her space or she does and it's way over budget, then it's time for a hack.
If it's going in a high-traffic area, look for something sturdy
Before selecting an item to DIY, consider its function in your home. Will it get a lot of wear and tear on a daily basis—like the hacked banquette pictured above, from a plant-filled California condo—or will it just sit there and look pretty? Lexy Ward of The Proper Blog says that some IKEA pieces are super sturdy, others not so much. "So it's important to give some thought to how you'll use items in your space," she says.
If your finished item will be heavily used or you're overhauling the IKEA product, take a tip from Amy Taylor of The Mombot: "I always look for sturdy items to be the base of my hack. If you try and hack or build upon one of their cheaper pieces, construction will be an issue." She says to look for solid wood and avoid the hollow furniture made of particle board. One of her top picks is unfinished pine.
Consider the material and what you're hoping to make
In terms of the surface, "Anything can be painted if it's prepped right," according to Jessica Nickerson of House Homemade. But there are definitely some materials that are easier and faster to coat. The general consensus among the DIYers? Wood and metal are best. Nickerson also notes that the more matte the product, the easier it is to paint. If you're changing the look of a piece with tacks or nails, Towers-Provencher recommends choosing a softer material with some give, such as cork or wood.
Skip pre-constructed pieces
How the product is constructed (or rather, deconstructed) also plays a part. Kristine Franklin of The Painted Hive says that products with pre-connected components are probably not the best option for major hacks.
Another tip: You know those IKEA pieces with the finger cut outs on the drawers? Franklin says, "If you want to dress things up with hardware, check if the drawers can be reversed," so you can screw in a cute knob. Never underestimate a hardware upgrade!
Prioritize large, flat surfaces
One reason IKEA products are so hackable is their simplicity, but pay attention to their shape. "Pieces with flat surfaces lend themselves more to hacks because it's easier to add other materials to them," says Towers-Provencher. "You can't easily add wood or other rigid elements to rounded shapes."
Pick something in a shade close to the finished color you're going for
Starting with a raw wood piece is a great option because it's a blank canvas. But when you're choosing between, say a white, black, or navy product, Franklin says to select a color that's closest to your finished hack because it's easier to get good coverage. Plus, it better hides future scratches or chips. Carrie Waller of Dream Green DIY has a different approach and likes to purchase white pieces. "I know that any color or pattern I put on it will complement the white and bring it to life," she says.
Whatever you do, follow what's right for you. Happy hacking!