Yes, You Do Need a Kitchen Scale — and This $14 Amazon Best Seller Has 4.6 Stars and 53,000 Reviews
We
independently
select these products—if you buy from one of our links, we may earn a commission. All prices were accurate at the time of publishing.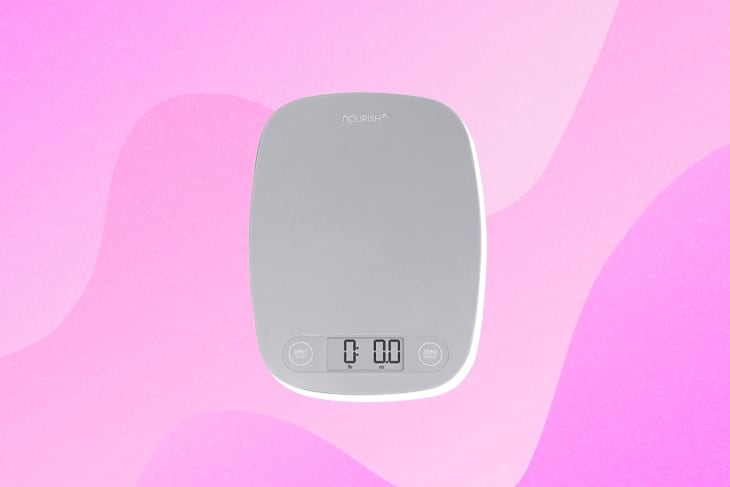 A dash of this, a splash of that — when you're cooking, it's all about instinct. Baking, however, is an exact science. Too little of this or a splash of that, and your muffins will end up looking like, well, a science experiment gone wrong. And let's face it: A good ol' measuring cup can only go so far, especially when recipe ingredients are measured in grams or ounces. So with holiday baking marathons on the horizon, now's the best time to add a countertop scale to your kitchen arsenal. As Sheela Prakash, Kitchn's Senior Contributing Food Editor, explains, "If you never want to guess what 4 ounces of chocolate looks like ever again, I suggest getting one." And you can't go wrong with Amazon's best-selling scale, which has 4.6 stars, a whopping 53,000 reviews, and a price tag of $13.95.
The much-loved GreaterGoods digital scale is the easiest — and honestly, most inexpensive — way to upgrade your baking game. But if you're side-eyeing your overstuffed kitchen cabinets, don't fret! This scale is smaller than the average piece of paper (about 8 by 6 inches), so it's easy to store. But while it's tiny, it's mighty: It can hold up to 11 lbs. on its razor-thin surface. As one reviewer said, "It can be stored flat along with my cutting boards! No concerns about fitting this into an already crowded cupboard." Another raved that it's "strong enough where I don't worry that my glass mixing bowls will break it."  
With a high-contrast LCD screen and a streamlined design, this scale looks sleek and high-tech — but it's actually much easier to use than the traditional mechanical scales. One reviewer explained that it's "ready to use, instinctively, right out of the box." Two touchscreen buttons allow you to toggle between measurements, so you can seamlessly switch from grams of sugar to fluid ounces of buttermilk. And when you're relying on weight, you'll get more exact measurements, especially when you're dealing with inconsistently sized ingredients like berries or nuts. (Plus, as one reviewer mentioned, it's handy when you're cataloging your food intake in an app.) This scale is accurate within 1 gram or .1 ounce — and it can even subtract the weight of your measuring bowl or container with the zero button feature.
Apart from their aesthetic value, those touchscreen buttons make cleanup a breeze. "Controls are touch-sensitive rather than push-button, so you never fling ingredients around by pressing down too hard in one spot," wrote one reviewer. No moving parts also means there's nowhere for flour and other loose ingredients to get caked on and stuck; just wipe the scale's surface clean and you're done. And since it's battery-operated, you don't have to use it near an outlet or battle with tangled cords. It even comes with a spare battery, so there's no danger of it failing you while you're prepping your hundredth sourdough loaf.  
Clearly, 53 thousand reviewers can't be wrong — especially when you factor in how GreaterGoods got their name: Each purchase helps their charity partners (here, the Global Orphan Project), so you can feel good about your purchase. So bring your baking game to the next level with a scale that's truly worth its weight (hey-o!) in gold. 

Buy: GreaterGoods Digital Kitchen Scale, $13.95