If You're Going to Read One Book In January, Make It This One
We
independently
select these products—if you buy from one of our links, we may earn a commission. All prices were accurate at the time of publishing.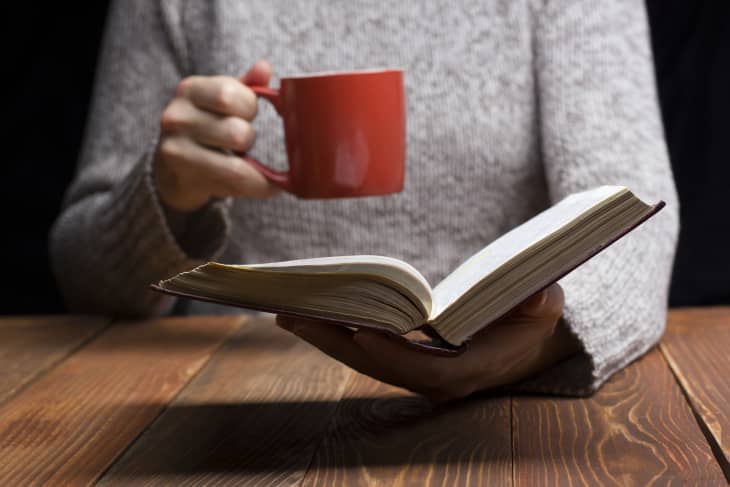 The best way to start the new year off strong is to read a book that sets the bar high for the coming months—and Angie Thomas' "Concrete Rose" will bring that bar to new heights.
Thomas is back with her highly-anticipated novel, "Concrete Rose," which serves as a prequel to "The Hate U Give" (although you don't need to have necessarily read the latter to love "Concrete Rose" with every fiber of your being).
Set two years after Tupac was murdered, "Concrete Rose" tells the story of Maverick Carter, a 17-year-old who abruptly learns he's a father to a three-month-old baby boy he names Seven. All it takes is a DNA test and just like that, everything changes.
Before his world is flipped on its head, Maverick and his girlfriend Lisa are madly in love, he's about to start another year of high school, and he's got a lucrative gig. But his cousin Dre finds out about the gig and shuts it down as soon as he figures out Maverick is doing more than just selling a little weed on the side.
As a new father, Maverick is forced to come to terms with the path he's on—the same one that led his dad to a life behind bars. He reluctantly agrees to stop dealing drugs for the King Lords, even though he and Dre both know it may not be that simple. The neighborhood of Garden Heights is no stranger to gang violence, but when someone Maverick loves and cares about is shot minutes after dropping him off, Maverick is quick to push for revenge.
"Concrete Rose" is a heartbreaking and tender portrayal of fatherhood, family, and sacrifice. Even though it's technically a YA novel, don't mistake this for a light read: Thomas once again delivers a poignant, enthralling story that dives into systemic racism, violence, and the fight for generational upward mobility. 
Here are some other books you might like to read this month:
The year is 1894, and in this alternative historical universe, most of the population has been wiped out due to a super flu. In "Outlawed," desperation to repopulate is the "Handmaid's Tale"-esque catalyst that leads to a societal demand that every new husband and wife procreate. Our protagonist, Ada, is a teenage bride who is grateful for the life she's given—until her community turns on her because she's unable to get pregnant. 
In this reality, women who are unable to bear children are either accused of being witches and are killed, or they're excommunicated. Ada's in-laws kick her out, and she's forced to seek refuge elsewhere. She eventually finds a group of outlaws called Hole in the Wall Gang, and they're led by an ex-preacher who now robs people for a living. The Gang has a plan to retaliate against the not-so-far-off dystopian reality that they're in, but it's risky—and there's a troubling lack of leadership within this group of crusaders who, at one point, give Ada hope that there's a possibility for a better, more progressive future.
"Outlawed" is 2021's definition of a Western, and it's just the kind of thought-provoking and fun read we need to start this year off.
The Push by Ashley Audrain 
Three months ahead of its release, it was announced that the film and TV rights to Ashley Audrain's debut novel, "The Push" had already been acquired by Heydey Television. There's something about this psychological thriller that caused a nine-way bidding war, and once you read it, you'll understand. 
"The Push" follows a woman named Blythe who gives birth to a daughter named Violet. Although Blythe and her husband were excited to become parents, a deep, dark fear within Blythe stops her from fully embracing her new role. We learn that when she was growing up, her own mother abused her, and Blythe worries she's caught in a vicious cycle. As Violet grows up, Blythe finds her hard to love; she believes her to be a difficult little girl and struggles to bond with her. The story only intensifies when Blythe gives birth to their second child, Sam. 
"The Push" is incredibly uncomfortable, shocking, and totally riveting. Audrain skillfully makes Blythe—and us—wonder if she's just being paranoid, or if there's something wrong with Violet to make her own mother so darkly perplexed by her. Is Blythe a terrible person, or is she a product of her own childhood traumas? Do we feel sympathy or hatred? If you're looking for a page-turner, this is it.
You Have a Match by Emma Lord
For something feel-good and fun that has definitive "Parent Trap" vibes, Emma Lord's second novel "You Have a Match" is a story about a teen named Abby who discovers she has a secret older sister after taking a DNA test. Strangely, this sister (whose name is Savannah, aka, Savvy) is literally nothing like her; she's cool, quasi-Instagram famous, and likes vegetables. But strangest of all, neither know why Savvy was given up for adoption.
Naturally, the girls take it upon themselves to devise a complex plan that involves meeting up at summer camp instead of just interrogating Abby and Savvy's biological parents. At first, the two don't get along (and meanwhile, Abby's crush, Leo, is the camp chef, which makes this amazingly more awkward). But as the story progresses, "You Have a Match" unveils the nuances of sisterhood and first-time love. 
Aftershocks by Nadia Owusu 
Poetic, complex, and illuminating, "Aftershocks" is a memoir that explores what it's like to grow up between cultures and never fee like you're able to embrace one wholly as your own. Nadia Owusu's Armenian mother abandoned her when she was two, a brutal rejection that leaves a permanent mark. Owusu and her father, a Ghanian official for the U.N., never stay in one place, and her inability to physically plant roots only adds to her divided identity. And when Owusu's father dies when she's just 13, it's like she's being abandoned all over again.
At age 18, Owusu's composure comes crumbling down as she realizes that she can't simultaneously belong everywhere and somewhere. Owusu unravels as she tries to glue the shattered pieces of her life together, and while it's breathtaking to read, it's also overwhelming and devastating at times. Owusu's sheer loneliness, inability to truly care for herself for the longest time, and the racism and cruelty she faces is staggering. 
"Aftershocks" is a memoir that captures one woman's resilience and tenacity to discover herself and be her own biggest advocate.