If You're Only Going to Read One Novel in October, Make It This One
We
independently
select these products—if you buy from one of our links, we may earn a commission. All prices were accurate at the time of publishing.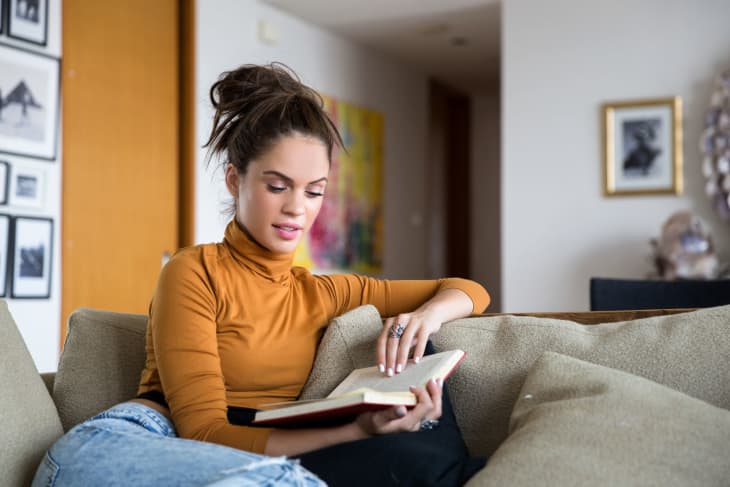 Alam, author of "Rich and Pretty" and "That Kind of Mother," happened to write the perfect fiction novel to read this month, especially with today's heightened time of political and social unrest—not to mention a global pandemic.
"Leave the World Behind" follows NYC couple Amanda and Clay as they and their teen children embark on a remote vacation on Long Island. Renting a gorgeous beach home, Amanda and her husband let loose and soak up luxuries they normally wouldn't get at home, like spontaneous Burger King lunches and sneaking cigarettes by the pool. However, the couple's dream family getaway is suddenly interrupted by a sharp knock on the door. A Black older couple, claiming to be the vacation rental's owners, says they're seeking refuge after experiencing an unusual blackout back in New York. 
With all points of communication singed as soon as the homeowners arrive, there's no way for Amanda and Clay to verify what is truly happening. Is it a blackout? A terrorist attack? An apocalyptic hurricane? The couple find it hard to trust the owners, G.H. and Ruth, although they don't dare say why out loud to each other. Alam slowly and smartly doles out evidence of Amanda and Clay's racial microaggressions, and the dynamic between the families cunningly plays a role in the disaster that begins to unfold around them: Hundreds of deer appear on the property, while a flock of flamingos touch base in the pool and quickly flap away. Military jets can be heard in the sky, while unexplained thunderous claps of noise startle the families.
"Leave the World Behind" expertly examines race and class through the lens of a Shirley Jackson-esque horror story that's Emmy-award winning HBO series material (we can already envision Reese Witherspoon being cast as Amanda). With Election Day and Halloween coming up, Alam's page-turning apocalyptic novel makes for the perfect read (if only it didn't borrow so much from real-life atrocities).
Here are more great reads to sink your teeth into this month:
The Searcher by Tana French
In "The Searcher," retired detective and divorcee Cal Hooper moves to a small village in West Ireland and purchases a run-down house, outbidding a local. His arrival makes the village residents uncomfortable, and they refuse to accept him as their new neighbor.
Cal finds himself dipping his toes back into his old line of work when a boy tells him about his brother's disappearance. With the entire town seemingly turning a blind eye to such a tragedy, Cal becomes motivated to solve the mystery—and uncovers more than he bargained for in the process.
My Heart Underwater by Laurel Flores Fantauzzo
A coming-of-age novel slash family drama, "My Heart Underwater" focuses on Corazon, a teen who feels like an outsider at the Catholic school she attends. The only person she's close to is her teacher, Ms. Holden, and the relationship between them isn't exactly appropriate. Meanwhile, Cory's grades slip, which leaves her parents disappointed and worried, since they're only able to send their daughter to private school if she holds on to her scholarship. They're also working hard to support their other son and Cory's half-brother in the Philippines. 
After Cory's father becomes comatose after an accident and she gets caught being kissed by Ms. Holden, her mother responds to this whirlwind of messy events by sending her daughter to go live with her half-brother in the Philippines. There, Cory discovers more about her identity—and her past—than she ever thought was possible.
Earthlings by Sakaya Murata
"Earthlings" is about a Japanese girl named Natsuki who knows she's atypical at an early age. As a child, she's close with her cousin Yuu, who is convinced he's an alien. Together, they plan a future for the two of them, one that doesn't involve the demands and prim rules of planet earth.
"Earthlings" shares the same dry and matter-of-fact humor and cleverness as Sakaya Murata's debut novel "Convenience Store Woman," if you haven't already read it and want to add that to your TBR list, too.