5 Unexpected Goodwill Finds for First-Time Homebuyers
We
independently
select these products—if you buy from one of our links, we may earn a commission. All prices were accurate at the time of publishing.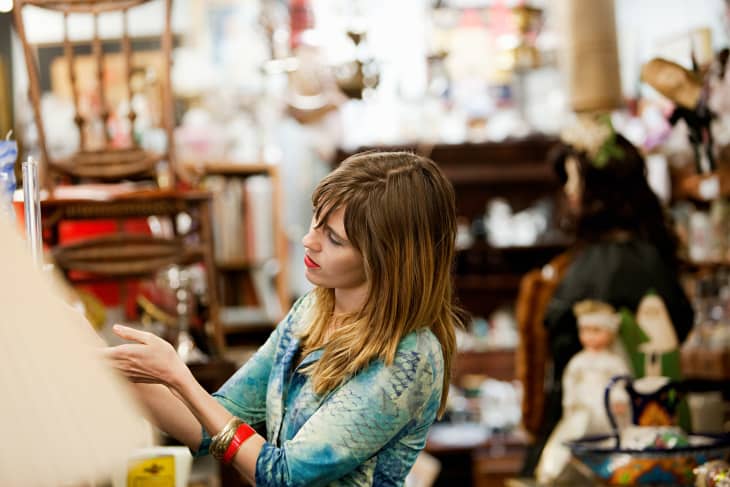 Moving into a home that you own, especially if it's your first home, is an adventure in discovery, trial and error, and very strategic budgeting. Often, new homeowners don't realize they're in need of something until they're ankle-deep in a flooded basement or shivering in sweaters because they can't figure out the heating.
And when those moments arise, knowing how to budget for unanticipated costs can be tricky. Fortunately, your local Goodwill is here to help prepare you for the unknown and bounce back from unexpected setbacks, all without making so much as a dent in your finances. I took a trip to one near me to see exactly what kinds of goods new homeowners can expect to find:
Replacements for lost or damaged items
No matter how smooth your move, there will be some casualties. Dropped a box of family heirloom china and need to replace your dishes? Instant Pot instantly vanished? Full length mirror left you with seven years' bad luck?
Goodwill is teeming with gently used appliances, gorgeous (truly, incredibly, profoundly) sets of dishware and drinkware, and so many odds and ends in between. Even if you're looking for a cost-effective solution to tide you over until you've recovered from moving costs—this is the place to shop.
Furniture to fill the gaps
If you've upgraded to a home from a one bedroom apartment, chances are you have a lot more space than furniture to fill it. You don't have to factor new furniture costs into your budget if you shop strategically.
Desks, end tables, buffets, and bookshelves all can serve as accent pieces to liven up blank walls, hallways, and those hard to decorate corners. The same goes for wall art; there are plenty of mirrors, frames, and paintings that might make your new house feel more like a home.
Regional or climate-specific gear
So you left Arizona for Minnesota and you're freaked out by that fluffy white stuff spewing from the sky and engulfing your driveway. I say this as a woman who has walked a mile in the snow to work on multiple (multiple!) polar vortices like some Little House on the Prairie nonsense: welcome to hell. Shovels! Space heaters! Maybe even snowblowers if you're lucky!
Goodwill also sells some new snow gear. Snag some inexpensive gloves and hats to keep in your car, at work, at home… everywhere! Conversely, if you've relocated somewhere not constantly inundated by the elements, Goodwill is stocked with fans. 
Home maintenance supplies
You might be so focused on finally having your own yard to remember the downside: There's no landlord to maintain that for you anymore. Leaf blowers, lawn mowers, brand new gardening gloves, shovels, flower pots—Goodwill has it all!
There's no reason to buy a brand new shovel when its purpose is to move around dirt. Depending on your Goodwill location, you might get lucky with tools or even electric drills.
A new aesthetic you want to test drive
When you're renting an apartment and moving every couple of years, it's easy to mix up your home's vibe. Now that you're in your own home, where presumably you'll be residing and making happy memories for years to come, there might be fewer opportunities to reinvent the look of your home without serious financial costs.
Thrifting not only will fill your home with inexpensive yet interesting items, but it also can serve as serious inspiration. If your rental was contemporary but your new home aches for something a little more bohemian, make Goodwill your first stop before investing money on mass-produced goods made to look like, well, thrifted treasures.