Amazon's Best-Selling Trash Can Has Over 4,300 5-Star Reviews (and It's Almost Too Pretty to Use!)
We
independently
select these products—if you buy from one of our links, we may earn a commission. All prices were accurate at the time of publishing.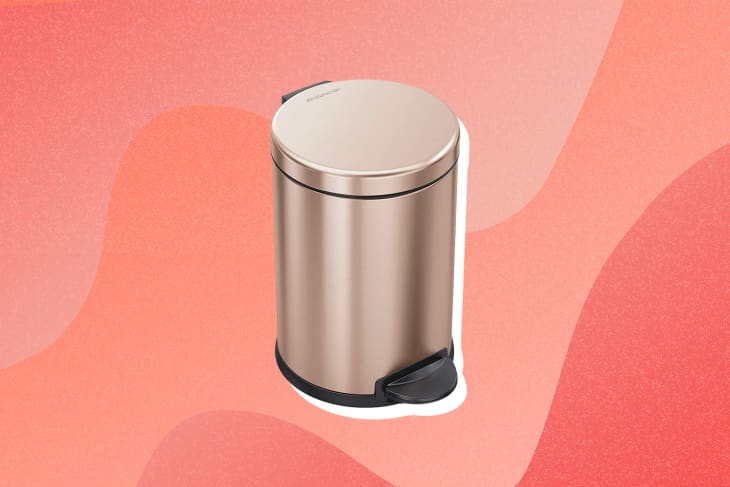 I don't mean to talk trash, but one of the most frequently used items in any room is probably the one you think about the least: your trash can, of course! Just consider how many times a day you open and close it without a second thought. That's why having a hands-free, foot-pedal-operated pail is crucial. And since it's out in the open for all to see, something that's pleasing to the eye is always best. Enter Amazon's best-selling step trash can from Simple Human, the product you didn't even know you were looking for — until now.
This simple stunner has more than 4,300 five-star reviews on Amazon, and it's easy to understand why. Measuring 7.6″W x 10″D x 12.1″H (19″ with the lid open), the petite, 4.5-liter pail is ideal for small rooms. It can fit into a nook in an office, bathroom, or any other tight space, but the strong steel foot pedal still has a feel of a full-sized kitchen trash can. One Amazon reviewer says, "I'd liked the aesthetics of it, and it ticked off the boxes of having a pedal and a lid and for $25; it was a solid purchase … The lid also opens slowly and smoothly, and does not bang up against the wall as my other trash can would."
Keeping this trash can tidy is a cinch, both on the inside and out. For starters, it has a fingerprint-proof finish to prevent smudges, keeping the stainless steel mirror-shiny. The removable inner bucket streamlines the act of taking out the trash, and you can opt to use Simple Human's Code A custom fit liners, which are impressively durable and fit perfectly. "In the bathroom, I got tired of using an off-brand can with a lid that didn't have dedicated bags, not to mention having bad fitting bags that were a pain to use, visible, and ugly," another reviewer writes. With this little gem and its thoughtfully designed bags, problem solved.
The pail comes in seven colors, but the gorgeous rose gold option is the number one bestseller — and for good reason: It's an unexpected hue that's surprisingly neutral and adds a subtle pop of elegance to any room. No matter which color you choose, the Simple Human trash can has a 10-year warranty, proving it's built to last. Because if there's one thing you can always count on needing, it's a trash can.