These Are the Best U.S. Cities for a "Workation"
We
independently
select these products—if you buy from one of our links, we may earn a commission. All prices were accurate at the time of publishing.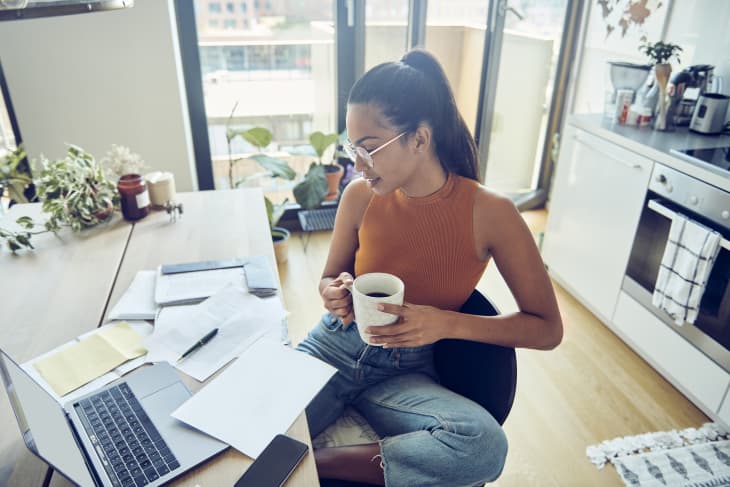 As we round the bend on two years of a pandemic, it's understandable if you're craving a change of scenery. And if working from home for so much time has you itching to combine much-deserved vacation time with all the amenities you need to stay productive on-the-go, there are plenty of U.S. cities perfect for digital nomads, with one new report highlighting the best destinations for a "workation."
The concept of a "workation" — that's the combo of work and vacation, by the way — first began brewing back in 2020 as countries around the globe began opening their borders to travelers looking to break up the boredom and cabin fever of being home amid stay-at-home orders. Of course, the ongoing pandemic has had plenty of peaks and valleys, making it difficult to predict when a new variant or spike in cases might make travel unsafe. Thankfully, wider availability of vaccines and boosters, medical-grade masks, and treatments on the horizon means it might be the time to consider the digital nomad life soon, and that's where this trusty list comes in.
You'll find inspiration in spades thanks to the pros at Holidu, a U.K.-based search engine for holiday rentals. The company released its "Workation Index," a comprehensive report analyzing several factors that influence a location's desirability among digital nomads. Qualifying factors include: the monthly cost of a one-bedroom apartment, the hot ticket number of things to do in your leisure time, the cost of after-work drinks, the average hours of sunshine and, of course, the internet connectivity, since those work emails sadly won't write themselves.
Using data from Best Cities' world's best cities ranking and other similar sources, the analysts determined the best cities in the world for a workcation, as well as separate rankings for the U.S. and Europe. If packing your bags and grabbing your passport is high on your priority list, perhaps you'll find inspiration in the top five best locales in the world, which are: Bangkok, Thailand; New Delhi, India; Lisbon Portugal; Barcelona, Spain; and Buenos Aires, Argentina.
If international travel isn't on the itinerary right now, don't fret. Thirteen U.S. cities made the cut, and it's probably no surprise that sunny California is home to three out of the top five, which include, in order, Los Angeles, Las Vegas, San Francisco, San Diego, and Chicago.
As for why LA takes top honors, you can chalk it up to a number of factors, including an average of 280 days or more of sunshine per year, excellent remote connectivity, and more than 100 different co-working spaces citywide. Plus, the ability to hit the beach on your lunch break no doubt helps sweeten the deal, too.
Check out the full list and get inspired to live out your workation fantasy, whether it be somewhere close to home or a destination much further away.