Bioceramic Domes Might Be the Houses of the Future
We
independently
select these products—if you buy from one of our links, we may earn a commission. All prices were accurate at the time of publishing.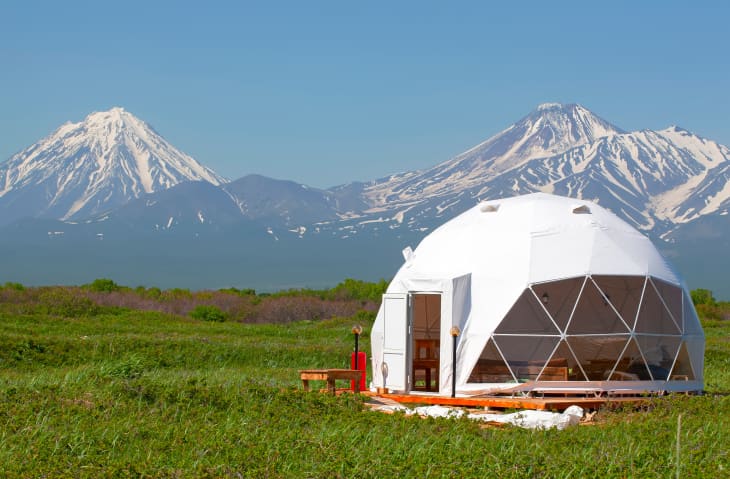 With climate change and a housing shortage to contend with, those invested and interested in the future of homebuilding have to begin thinking outside the box. One company is doing so by reshaping "home" into the form of a dome. 
Geoship is hoping to change the future of housing with its climate-proof, zero-waste, and low-maitenance "bioceramic" dome.
"Geoship is combining nature's most efficient geometry with a revolutionary new material science known as Chemically Bonded Ceramics (bioceramics)," the company said in a press release. "Geoship domes consist of a bioceramic and fiber composite space frame, with bioceramic panels forming the interior and exterior shell. This new combination of material science and geometry creates an architecture with a new level of quality that can be produced rapidly at low cost."
The company plans to launch microfactories in the U.S. that will manufacture a standardized set of ceramic components that snap together to create the domes. Several domes will be able to snap together so that homeowners can create various configurations or even multi-family homes.
Because these domes are completely ceramic, they can withstand extreme heat, are fire-resistant, flood-resistant, and completely non-toxic. The dome shape is also extremely strong and can handle massive amounts of snow buildup, withstand earthquakes, and are expected to last over 500 years.
And installation only takes two to three days for the smaller dome, and five to six days for the larger.
After raising the necessary funds from investors in 2020, Geoship completed its first ceramic geodesic dome prototype in California in early March. The company has also partnered with Zappos to launch an affordable housing village in Las Vegas, which will hopefully grow into a larger program that will serve homeless communities nationwide.
You can follow along with the progress of Geoship over on the company's website and via social media. Bioceramic domed homes may just be the houses of the future.