The Powerful Tool My Accident-Prone Family Swears By for Spot-Cleaning Spills and Stains
We
independently
select these products—if you buy from one of our links, we may earn a commission. All prices were accurate at the time of publishing.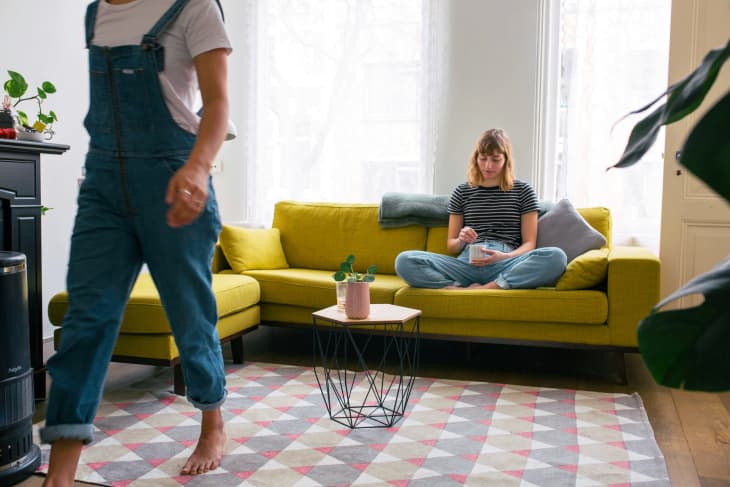 The day a new couch was delivered to my family home, the first rule my Mom made was No drinks allowed on the couch. She didn't want anyone to spill anything, but as we were almost all adults at this point, we thought it was a silly rule that would no doubt be broken in record time. In the end, it took a week for our mother to break her own rule — and simultaneously prove her point in the process — by spilling a soda on her brand new couch. 
I'm not a clumsy person by nature, but somehow I've surrounded myself with accident-prone people. That means there's never a cleaning tool too far away. I keep a mini vacuum on my coffee table, napkins everywhere, hand sanitizer at the door, and reusable tissue within arm's reach. I love my Dyson Humdinger for quick and dry clean-ups, but when I find days-old dried ketchup from my younger cousin's fries on my living room carpet, I turn to the BISSELL Pet Stain Eraser Powerbrush to get the job done.
When I first started using Bissell's Pet Stain Eraser Powerbrush, it actually was for pet messes. We have a senior dog in the family that went through a period of leaving not-so-little spots for us to clean up around the house. It's stopped now, but at the time, we were having to pull out the Pet Stain Eraser at least once a day. Before using it, we tried other carpet cleaners and scrub brushes, and while they would get the stain out of the carpet, the smell would always linger. The Pet Stain Eraser got rid of the stain and the stench, so we knew right away that it was a supreme upgrade from our previous methods.
Bissell's Pet Stain Eraser Powerbrush is a handheld carpet cleaner with a built-in rotating brush to help lift dirt and other messes. It comes with a stationary tool to help scrub stubborn messes and the brand's OXY Spot and Stain remover, so everything you need to start using the device is already in the box. The machine itself is lightweight, simple, and doesn't require water to operate. You just pour the cleaning solution directly into the tank, press a button to spray it onto the stain, then suction it all up!
The best part? It's rechargeable and cordless, so you can take it wherever you need it, from the floor to the couch to the backseat of your car. However, its runtime is only about 20 minutes, so it's best to use the Pet Stain Eraser for spot cleaning, as a huge mess that would take a while to scrub up would likely not be feasible on a single charge. That being said, this machine is impressively thorough and efficient for stains that fall within its capabilities (high-pile carpets and shag rugs are a no-go altogether).
These days, my family primarily uses our BISSELL Pet Stain Eraser for everyday messes. It picks up dirt that gets tracked into the house, spilled food and drinks (which happen more often than you'd think!), and helps with overall maintenance to keep our home looking spotless. We actually pass the machine around since members of our family live so close to each other. It's a convenient alternative to hand-scrubbing or pulling out a full-size carpet cleaner, especially when you have to clean as much as we do — we've been putting ours to work for months, and it hasn't let us down yet