This Budget-Friendly Amazon Steam Mop Has More Than 20,000 5-Star Reviews and Removes Years of Dirt with Ease
We independently select these products—if you buy from one of our links, we may earn a commission. All prices were accurate at the time of publishing.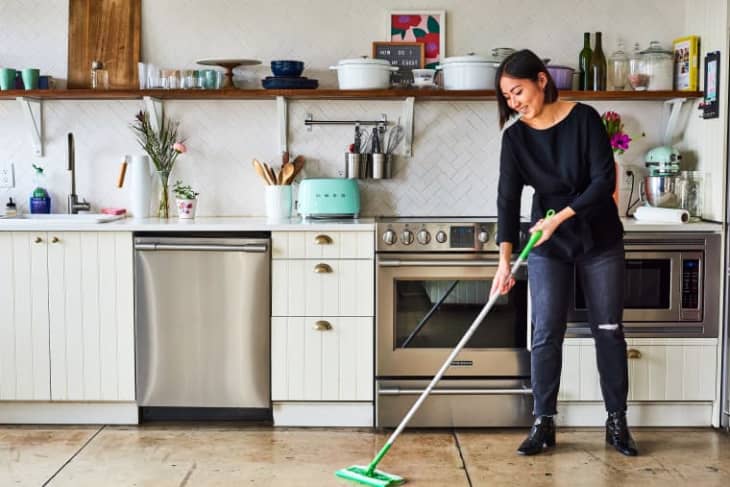 We can't resist a game-changing cleaning tool, especially one that gets our floors looking better than we ever thought they could. But, with so many options out there for floor cleaning, it can be challenging to decide which one is right for you. That's when we turn to the wonderful world of Amazon reviews, and the results are in: The BISSELL PowerFresh Steam Mop is a cleaning must-have. It steams through dirty floors with ease (without using chemicals!), leaving users with amazingly clean homes and a product they keep coming back to for their toughest messes. In fact, this BISSELL wonder has garnered more than 30,000 positive reviews on Amazon, with the majority of customers rating it five out of five stars.
Follow Topics for more like this
Follow for more stories like this
"I love this BISSELL PowerFresh Steam Mop!" expressed one customer. "I'm a real mom with real messy floors to clean, and this steamer has cut my work time in half. " Best used on sealed hard floors, the BISSELL PowerFresh Steam Mop features three levels of steam that can be adjusted via a control panel; the bigger the messes, the higher the steam. It even comes with two Spring Breeze fragrance discs that provide a pleasant scent as you clean, as well as two washable microfiber mop pads (one soft and one scrubby) and a flip-down scrubber to get into grout and assist with tougher messes. 
The BISSELL PowerFresh cuts through tough messes from pets, people, and everyday spills. It has a lengthy power cord of 23 feet and is equipped with ultra-convenient swivel steering for seamless transitions. "I'm really happy with this steam cleaner," reports another Amazon shopper, "It works better than my old one and has a really long cord so I can do half my house without constantly unplugging. I really like the way the mop is attached like a shower cap. On my old machine, it attached like velcro and constantly fell off. It works great on my wood and tile floors." Though it doesn't technically clean carpet since the mop doesn't use suction, it can easily deodorize and freshen up soft floors.
All it takes to start using BISSELL's PowerFresh Steam Mop is some distilled water, but the brand also sells another option: mineral-free scented water. "I have vinyl plank laminate floors and this mop works wonders," one review reads. "I wasn't sure what I would need to operate when purchasing, so I ordered the BISSELL steam mop liquids to go with it. They were great, had a very light fragrance, but I found out I didn't need them. You just need plain distilled water." If you do opt for a fragrance, BISSELL Scent Water comes in three options — Spring Breeze, Eucalyptus Mint, and Citrus.
At less than $100, the PowerFresh Steam Mop is a solid option for homes of all sizes and messiness levels. Writes another happy customer, "I have four dogs, a cat, and two messy teenagers who track dirt everywhere. I used it for the first time today and WOW! No need for anything, but steam. It cut through a muddy floor mess in minutes… I wonder why I didn't put myself out of my misery of a mop and bucket sooner!"