This Spot-Cleaning Tool Has Almost 14,000 5-Star Amazon Ratings and Can Erase Years-Old Stains
We independently select these products—if you buy from one of our links, we may earn a commission. All prices were accurate at the time of publishing.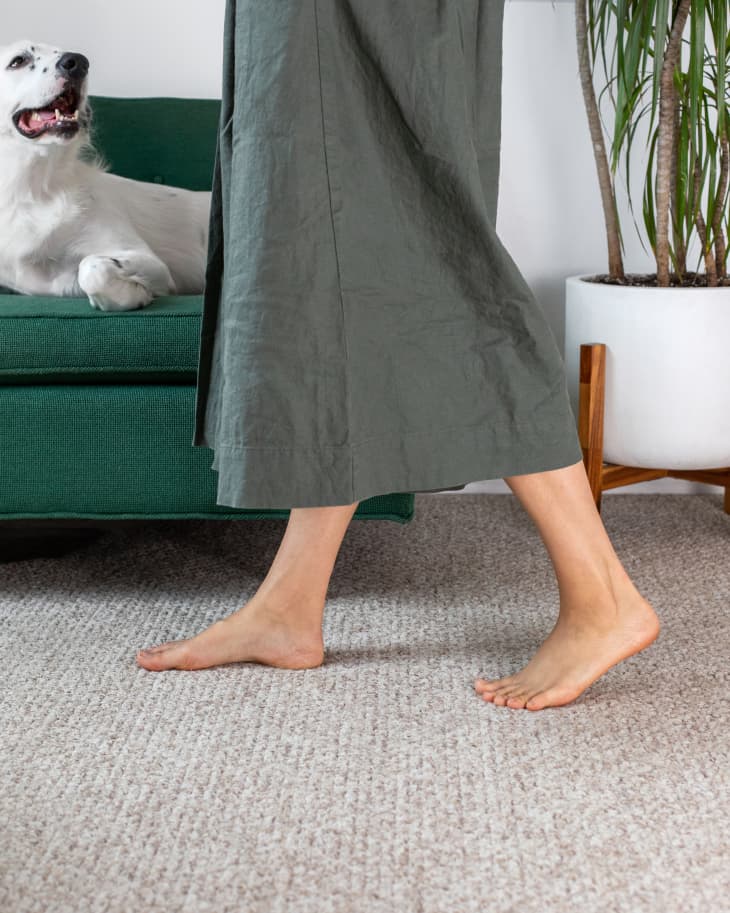 Between pets and people, dirt has a way of finding its way onto carpets, stairways, and upholstered furniture this time of year. But if you've ever tried to spot-clean a high-traffic area in your home using a spray solution or foam, you know that this can create a new spot, albeit a clean one. Luckily, there's an easy way to rid your home of everyday spills and stains, even if your pet has an accident or you forget to remove your dirty boots at the door. Meet the BISSELL SpotClean ProHeat Portable Spot and Stain Carpet Cleaner, a compact, portable steam vacuum that uses a combination of heated water, cleanser, and suction to permanently remove stubborn stains and dirt from carpets, stairs, and upholstery. It's racked up nearly 14,000 positive reviews on Amazon, many from pet owners or parents of little kids, including one who calls it "my new best friend."
If you've ever rented a commercial steam cleaner, the BISSELL works similarly, but in a much more manageable package that's ideal for spot-cleaning. The vacuum's handle and flexible hose make it easy to maneuver around your home, whether you're getting down to clean a dog bed, or picking up ground-in dirt on a staircase. As one customer notes, "we use this for our 16 year old dog and her accidents. It works great and makes the whole incident less stressful and not overwhelming." And, since the BISSELL is about the size of a small backpack, it can be stashed under a sink or in a cabinet between uses. Some reviewers note that it's ideal for cleaning stained mattresses and curtains. 
The vacuum works by dispensing heated water and cleanser through the head of a 3-inch wide stain tool, which has both rubberized and fiber bristles to loosen and deep-clean messes. The compact head is ideal for getting into tight spots like stairs, or for cleaning smaller items like cushions or upholstered skirting. Using powerful suction, the cleaning head then removes the water and debris, which exit into a separate tank for disposal. After cleaning, the water in the second tank will get visibility cloudy and murky, proof that it's working. Along with a trial size of Oxy cleaner, the BISSELL comes with a smaller cleaning head and self-cleaning hose tool for keeping the unit sparkling, even after messy jobs. No matter where you encounter a spill in your home, you'll be able to tackle it quickly and easily. 
And unlike spray solutions, the heated suction can reach down further than any spray cleaner or foam can. As one happy customer reports, the BISSELL is great for cleaning up old pet stains, and notes that he "used it on a pet stain over a year old and it came out within 2 minutes!"  Other reviewers regularly use it to clean the interior of their cars and campers, with one reporting after using it to clean a 10 year old car, "it took most of the stains out and by most, I mean almost every single one."
Of course, you don't have to be a pet or a car owner to love the convenience of the BISSELL. It's also great to have on hand for everyday spills, as one customer shares. "We had a large RED wine spill, the kind where it splatters everywhere. I pulled this machine out and tackled the wine spill with no problem! 100% recommend having this machine on hand, no matter your reason."