I Painted My Bedroom in a Divisive Color, and It's the Best Decision I Ever Made
We
independently
select these products—if you buy from one of our links, we may earn a commission. All prices were accurate at the time of publishing.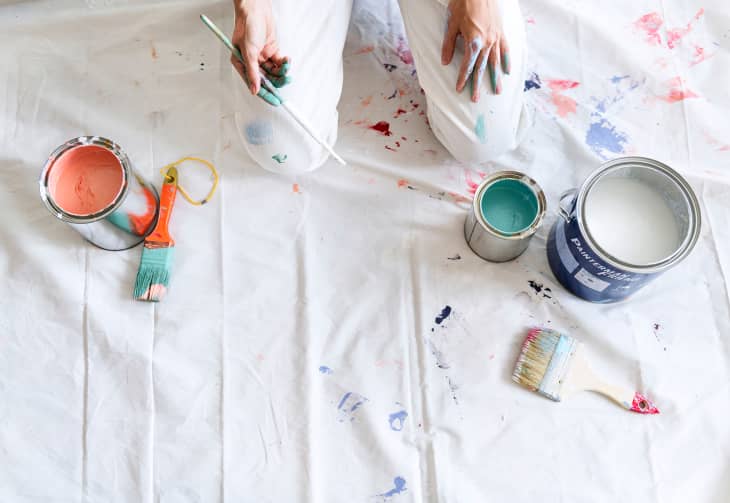 While black used to be one of the least popular paint color choices, its popularity has skyrocketed over the past few years. I'm now seeing the color on everything from kitchen cabinets and windows to doors. When it comes to bedroom paint colors though, black arguably still borders on controversial. Some might think it's too dark or that it can make a space seem smaller and be nearly impossible to paint over down the road. Meanwhile, proponents may say it's a modern, dramatic choice that, when done properly, can actually make a space feel larger and more inviting. Personally, I would tend to agree with the latter.
In fact, before moving into our first home nearly two years ago, my boyfriend and I spent several years renting. As most fellow renters can relate to, painting wasn't an option, so we lived with the neutral, cement-gray walls. Fast forward to our current space though, and I was keen to experiment with some fun and bolder hues. I chose a deep teal for our dining room, and in the bedroom, I decided — on a whim — to try black. I wanted to avoid a dark, gothic feel (but if that's your thing, you do you!) while also ensuring the space didn't appear smaller. I eventually landed on painting a black accent wall behind the bed, with stark white walls throughout the rest of the room and black decorative accents to tie everything together. It's a decorating decision I'm still happy with today.
Our black accent wall adds the perfect amount of drama to the space without making our bedroom seem closed-off or smaller. I love that black works as a neutral shade that goes well with different decorating styles, whether you're into boho decor, modern farmhouse, Scandinavian style, or maximalism. I also find the overall look grounding and soothing, which is something I honestly didn't expect when choosing black for our bedroom. We even added some matte black wall sconces on either side of our bed, and our ceiling lights, dresser hardware, and other accessories (like plant stands) are also black. 
The actual painting process was more tedious compared to others colors, since there's less room for error and more room for mistakes with darker hues, particularly in my case, where I was working with black and white right next to each other. Be prepared to spend some extra time on the edging to get those crisp lines, and painter's tape will be your best friend. 
As for maintenance, it's also worth noting that, like all colored (versus white) walls, dings and scratches do show up pretty prominently. I've found myself touching up the paint job more frequently on the accent wall than the other walls in the room. Also, dust becomes noticeable so easily — wiping down the black paint has become a regular part of our cleaning routine.
Despite this extra step when cleaning, I still wouldn't change the black. After nearly two years now, I can honestly say I have no regrets. If you're on the fence about painting your bedroom black, let this be your sign to take the plunge; you can always start small with just one wall, and if you don't like it, paint it back!
February is Bedroom Month on Apartment Therapy! We're sharing stories all month about bedrooms — from how to sleep in them, decorate them, make the most of small ones, and so much more. Head over here to see them all!