Turns Out, Playing Board Games Is a Great Way to Bond with Your Partner, Study Says
We independently select these products—if you buy from one of our links, we may earn a commission. All prices were accurate at the time of publishing.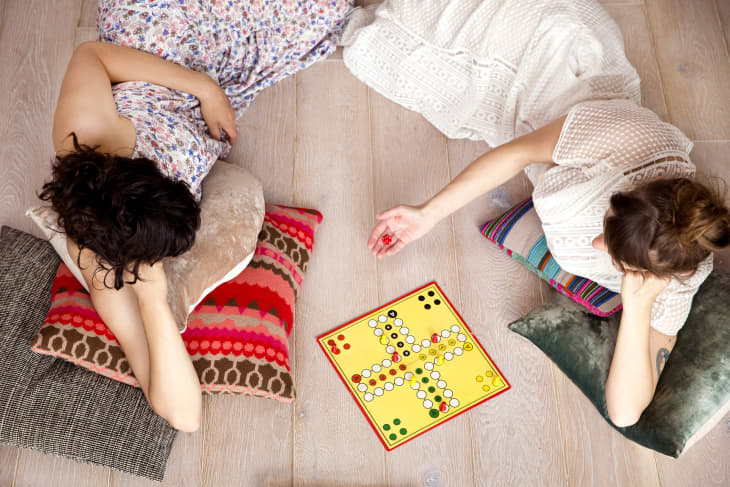 Looking for date night ideas to reignite the spark in your relationship? Consider dusting off your favorite board game or enrolling in a couples' art class. According to new research, both activities could help your brain release oxytocin, a natural chemical that is otherwise known as the "hugging hormone." 
Past studies have proven that oxytocin can improve partner approachability, encourage fidelity, and enhance positive relationship memories. The hormone usually plays an essential role in the initial stages of romantic attachment, which is when we hold hands, hug, and engage in other physical acts of love most often.
For this study, researchers at Baylor University enlisted the help of 20 married or cohabiting heterosexual couples, aged 25 to 40, whose oxytocin levels were measured throughout the research period. Researchers asked the couples to either play a familiar board game in a home-like setting with no one else around or attend an art class with other couples in a new environment for one hour.
Before the study, researchers asked the participants to fill out a survey with questions about their family life. Just answering the questionnaire appeared to increase oxytocin levels in most people. Previous studies have shown that merely thinking about our partner can have a significant effect on our oxytocin production, so that's not so surprising. 
What is surprising, however, is that men that attended a painting class released twice as much oxytocin as all other groups. That could have something to do with the novelty factor of the activity (men generally rated their experience in the art classroom as slightly more novel than women). But it could also have something to do with the physical contact.
"Typically, an art class is not seen as an interactive date with your partner. But sometimes couples that were painting turned the activity into a bonding time by choosing to interact—putting an arm around their partner or simply saying, 'Good job,'" said study's co-author Karen Melton, speaking to Baylor University. 
Women, on the other hand, displayed the highest levels of oxytocin when playing board games. Men who played board games had the least amount of oxytocin out of the four groups. In fact, men released less oxytocin when playing board games than when answering the initial questionnaire. 
Nevertheless, it's important to note that all four groups released oxytocin when interacting together. It's possible that other "couple activities" could cause a similar change in couples' oxytocin levels, too, but further research is needed to ascertain that. Regardless, there's probably no harm in postponing your weekly movie night and busting out Scrabble instead.