I Tried This $20 Pour Over With Over 29,000 5-Star Ratings, and It Makes the Perfect Brew for Two
We independently select these products—if you buy from one of our links, we may earn a commission. All prices were accurate at the time of publishing.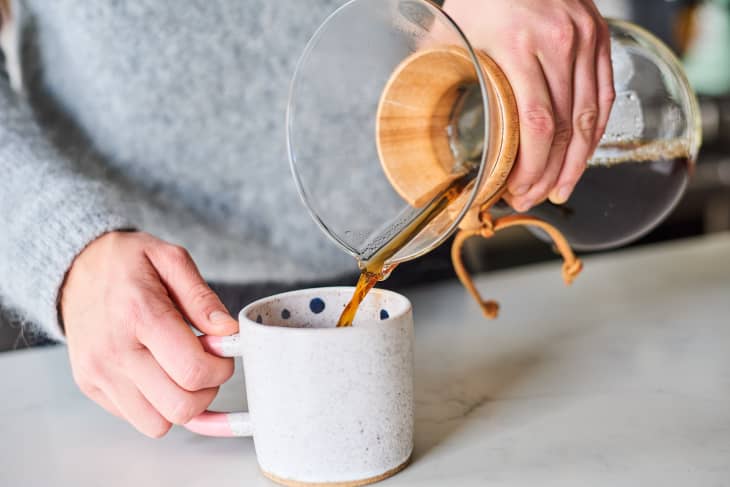 If you know me, you know that I absolutely love coffee, from carefully extracted espresso and frothy cappuccinos to tall glasses of cold brew, regular ol' drip from Dunkin', and more. However, at home, I always find myself gravitating back to pour over. For a single serving, I don't think there's a better tool out there than a Hario V60, but it's a pain — and a waste — to make two cups, with two filters, with two mounds of coffee grinds each morning. I was looking into snagging a fancy Chemex or something like it, but I didn't want to shell out for even more coffee gear, because I already have so much that my girlfriend would probably leave me if I got another piece of bean machinery to clutter our already-stacked countertops. So, when I saw the Bodum Pour Over Coffee Maker on Amazon for just 20 bones, I jumped on it. 
Follow Topics for more like this
Follow for more stories like this
This super affordable machine is basically a less-expensive Chemex, but with one feature that I absolutely love — the reusable basket. It's got tiny metal holes that actually keep your coffee grinds inside the basket, and not in your cup, as long as you have coarsely ground beans. The drawback there is that I'm not super confident using pre-ground beans would be the move here, but any good coffee shop will be able to grind your beans to a level suitable for a reusable basket if you ask. (Plus, if you're interested in pour over coffee, you probably already have a coffee grinder of some sort at home.) And, if you're a diehard pre-ground coffee fan, the basket fits a regular pour over filter too, which works just as well.
This bad boy has been a huge help in my morning routine, because it's super straightforward to use, and makes a liter of coffee at a time, which is perfect for my girlfriend and I, who drink about a pint of coffee (each) every morning. For normal coffee drinkers, you can easily get four cups out of a single brew. And, it's clear that I'm not the only one who loves this thing, since it has more than a whopping 29,000 (and counting) five-star reviews on Amazon. "This system is so simple and it produces an excellent cup of coffee," one reviewer writes. "The filter is completely made of metal, no plastic. All you get is the pure coffee flavor."
So, if you're in the market for an easy-to-use, affordable alternative to more expensive, large-format pour overs, the Bodum Pour Over Coffee Maker is definitely the move. You'll waste less, drink more, and enjoy better quality cups.