What Book Clubs Have Learned About Community from a Year of Reading Online
We independently select these products—if you buy from one of our links, we may earn a commission. All prices were accurate at the time of publishing.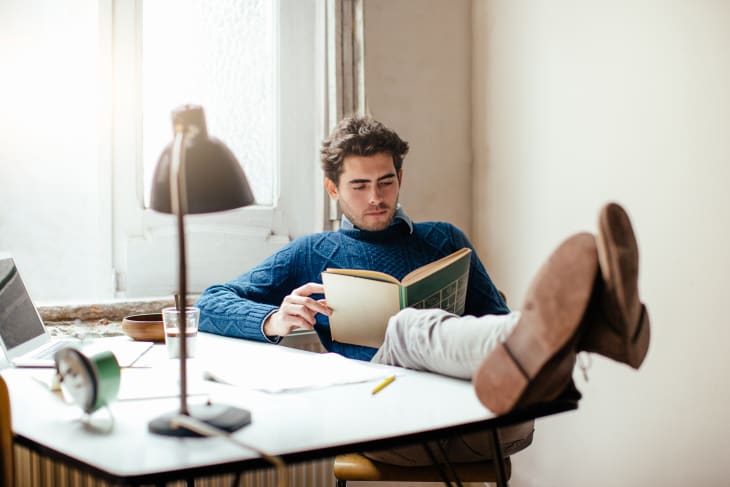 As people plan a summer that's closer to "normal," many clubs and groups are going to have their first in-person meetings in over a year. But 12 months of Zoom meetings weren't for nothing — there's a lot to be learned about building and engaging a group of friends (or strangers!) from leaders who did so during the weirdest of pandemic times. Apartment Therapy spoke to three book club leaders about how they kept their communities excited and connected during an isolating year.
1. Make it accessible to everyone. 
Caitlin Heikkila started Book and Wine club seven years ago for a group of friends living in New York, and it quickly expanded to in-person chapters across the country and Canada (there are now 10 chapters and more than 1,000 members across those chapters). Most major cities had a meet-up group, where they could join a live meeting, but the pandemic created more opportunity for people who lived in smaller areas. "People who lived in a place that didn't have a meet-up group, like Wisconsin, could join a virtual meet-up," she said. "That was really exciting, and we've been able to grow our community in a different way." 
The remote option was even useful for people who normally had a local group option, because it made it much easier to fit into a daily schedule. "There's a lot of time spent commuting in L.A.," Caitlin explained, "If somebody is having their meet-up group on the west or east side, it can take hours with L.A. traffic." Book and Wine club is going to try a hybrid approach as their chapters ease back into a restriction-free world, but will hopefully have a virtual component going forward.
2. Create space for all styles of participation.
The Zoom chat ended up being a bonus of a virtual setting, said Lupita Aquino, founder of Lit on H St., a DC-area book club that partnered with local bookstore Solid State Books. "Some people are more comfortable throwing out thoughts in the chat than raising their hand," she said. "Or they have a fear of interrupting. The chat is a bonus positive for people who want to engage and participate but not be on camera."
As a moderator, Lupita learned to balance both the chat and the on-camera conversation to include more members' thoughts and ideas, and it meant that each meeting included more from each reader. The same went for those awkward Zoom silences — what might seem cringeworthy in a meeting with coworkers was transformed during book club as a moment to reflect. "Silence isn't a bad thing," said Lupita, who learned to acknowledge those moments and give people a chance to think about a question around the book, which allowed for more thoughtful conversation.
Heikkila also found innovative ways for people to participate even if they couldn't make monthly meetings. She launched the "12 Books in 2021 Challenge" for club members to read 12 books over the year. "It's an attainable goal, people feel they can accomplish that," she said. "I think people like having something that keeps them in check." It also offers another way for the community to participate and connect — whenever they finish a book they want to count towards the "challenge," they post it with the #12Books2021 hashtag.
3. Emphasize quality over quantity.
This past year has created a refreshed sense of prioritization — time spent together is precious, and everyone should respect moments of connection. The same goes for book clubs, or any community gathering. "The people that do show up are the people that want to be there," says Lupita, who didn't feel the need to "saturate herself on social media" in order to engage the group. Her book club originally had anywhere from 15 to 50 participants at the bookstore, and there have been a core of about 16 members who have kept showing up for the discussions. "I would rather have an intimate 16-person group discussion where people feel like they can share how they feel about a book and engage with other people versus a 200-attendee room where not everyone could speak," she said.  
4. Be intentional about programming.
The Book and Wine club isn't just about reading — each month's selection is paired with a wine selection that speaks to the book or the season. Last month the group read Gabriela Garcia's "Of Women and Salt", paired with a sparkling rosé from Une Femme wines, a label that produces women-run wineries. A portion of the proceeds from wine sales went to Dress for Success, and that's just one example of the thought that goes into each month's meet-up. Heikkila also follows two specific criteria for her monthly picks: they're always women authors, and they're always new books. "I don't want to choose a book that came out three years ago that half the group already read," she explained. 
5. Set clear community guidelines.
Though in-person book clubs could go on for hours, many leaders had to contend with stricter guidelines during the pandemic — some simply enforced by the Zoom cutoff of 40 minutes for free accounts. Setting those guidelines ahead of time isn't' a bad thing, says Olivia Rogine, Director of Community at Girls' Night In. "Giving people options and setting expectations about any kind of experience, in person or virtual, is really important," she said. "I recommend sharing community commitments to set up each conversation for success." One way to do this is the "hard stop," many of us know from our workday meetings — even in a fun community setting, that time limit is a smart way for "attendees to respect one another's time and energy."