So… the House You Just Bought Used to Be a Porn Set. Now What?
We
independently
select these products—if you buy from one of our links, we may earn a commission. All prices were accurate at the time of publishing.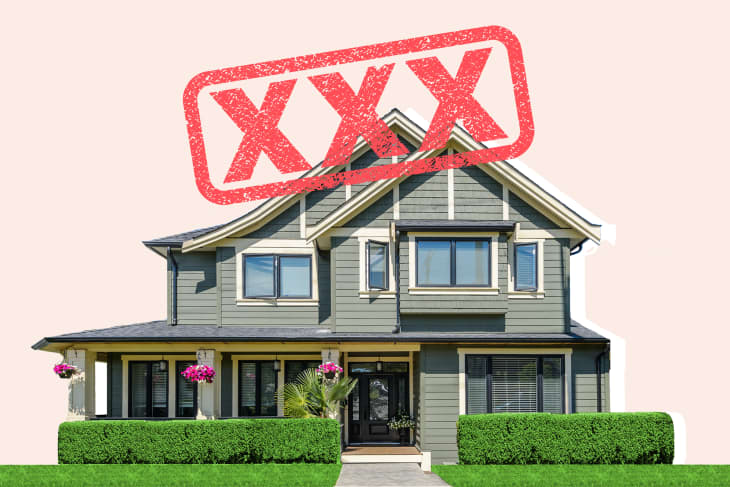 It's usually not possible to know everything that went down in your new home before you closed on it. You may never meet the owners who preceded you, or learn what they were up to for all those years living in your house. But frankly, to invert an old cliché, it's a good thing walls can't talk. Sometimes there's ample evidence of the dirty deeds that happened in your new-to-you living room, bathroom, or (gulp) bedroom. And sometimes that evidence lives online—forever. 
That's right, all those billions of hours of pornography on the internet had to be filmed somewhere, and if you play your cards wrong, you might just end up moving your family into a property that's famous for unexpected reasons.
So what can you do if it turns out the house you've got your eye on had a past life as a set for adult films?
The most important thing you can do if that's a dealbreaker for you is ask, says Los Angeles-based realtor Kathryn Bishop. She recommends you think about what your priorities are as a homebuyer, and if that includes no on-camera coitus, then it's your prerogative to add it to the list of real estate turnoffs, right alongside wood paneling and wall-to-wall carpeting.
"If that use of the house is offensive to you then that's something you should tell your agent, and it's something your agent should ask up front before you get to the offer and the inspections," Bishop says. 
That's because laws on what a homeowner or listing agent has to disclose to a buyer, which vary state by state, do not generally require that they go into that level of detail about a home's past. Most of the time, a seller typically only has to disclose a couple of specific material concerns with a home, such as whether it contains lead paint, or, interestingly, whether it's been used as a meth lab. The same rules apply to porn that apply to whether someone has died in a home. A realtor may not have to volunteer that information, but they can't lie to you if you think to check. 
As with any potential legal issue, if you're really concerned about such things, it's best to get the answer in writing. Otherwise it could be nearly impossible to sue for being kept in the dark about your home's history. Still, you may want to be cautious about how you bring up the porno question. After all, you run the risk of offending the prior homeowners, and losing out on finalizing the deal.
On the flip side, Bishop suggests anyone who's trying to sell a one-time porn palace should be up front about that to any potential buyers, for the risk of blowing a sale. "I would still suggest to a client that you should just put it in the disclosures," she says. "It's an emotional issue rather than a physical one. The house hasn't been physically damaged, but it has been reputationally damaged to certain people."
It's not a problem that surfaces very often, as you might imagine, but it has happened. Famously, one case in Arizona rose to the level of a regional scandal in 2018 after a woman backed out of the sale of a $2.2 million home upon finding out its owners were well-known porn stars who'd shot countless explicit videos in it. "I just can't make Thanksgiving dinner on counters where a porn star has been lounging around," she told the Arizona Republic in an interview. She hadn't yet finalized the agreement, so she was able to walk away from it.
It's also possible that a realtor or current homeowner might not know about a home's lurid past. Philip Hastings, a real estate lawyer in New Hampshire, advises clients worried about their home's history to look into publicly accessible records that would show if there have been complaints lodged at the address for, say, film crews milling about in the front lawn, strange noises emanating from the property, or any lascivious behavior on the back deck.
Renting out a house poses different and possibly complex challenges for the porn-averse homeowner. The more strangers you let stay in your home while you're away, the higher the chance of some of them knocking boots on camera in your dining room.
In most cases, though, if you find out such a thing has happened, you're pretty well protected by the law, Hastings says. Most short- or long-term rental agreements—not to mention Airbnb's terms of service—include clauses that forbid commercial use, so anyone who used an apartment to film porn in hopes of selling it online would be in breach of that contract, in the same way they would be if they decided to run a pop-up yoga studio or dog-washing salon on your property.
"If someone was particularly concerned about this, they could write out a list of uses that are strictly prohibited and make that one of them. That would not be an unreasonable approach to take," Hastings says.
Additionally, someone shooting a film for distribution in a home would need permits, and would need to comply with local zoning rules that might ban commercial activity. Failure to do so would also be illegal. 
While also pretty uncommon, pornographers have been known on occasion to use rental properties, with sometimes harrowing results. A few years ago, the owner of a Martha's Vineyard summer home discovered, to her horror, that her family's home on the well-to-do island had been used for months as a set for dozens of adult films. Videos posted online included sex acts in "nearly every room of her home," and many disturbingly included her own artwork in frame. She's now suing the production company responsible, alleging among other things emotional distress and unauthorized use of intellectual property. The case is ongoing.
To spare yourself the trouble, Hastings says, consider this yet another reason why you need a very well written contract. If you're thinking of handing the keys to a beloved family getaway over to strangers, you'd do well to keep close tabs on what's happening there, and who's coming and going.
You can, of course, also always just learn to live with your home's past, or accommodate those who might consider your abode the ideal setting for their next film. Consider it a conversation starter at your housewarming party. Wow your guests by revealing your home's been featured in the movies, and try not to embarrass those among them who say they're sure they've seen it before, but can't quite put their finger on it.
Bishop should know: She says she bought a house in the Hollywood Hills in the 1990s that had notoriously been used in porn shoots, but simply de-porned the house by removing the mirrored ceilings and flocked velvet wallpaper, then remodeled it to her liking. She lived there for ten years, happy to tell guests how it'd been immortalized in dirty movies. "I burned a lot of sage," she says, and then she got over it.