The Old-School Kitchen Accessory That's Making a Comeback
We
independently
select these products—if you buy from one of our links, we may earn a commission. All prices were accurate at the time of publishing.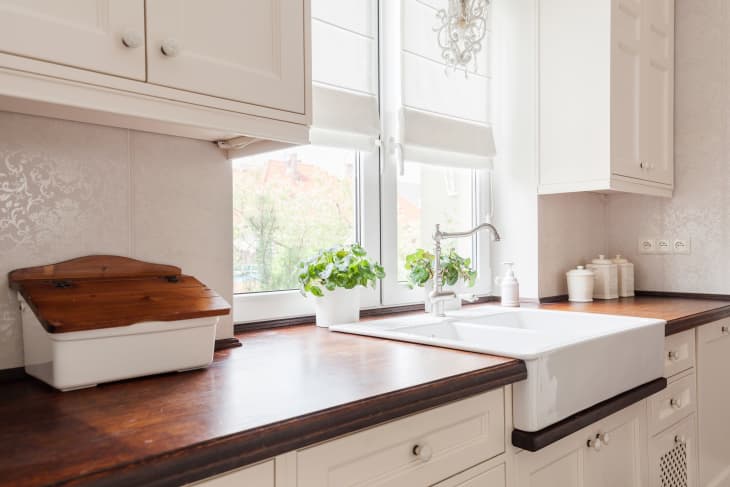 You might recall at the beginning of the pandemic that bread had a moment — especially sourdough, which people suddenly had enough time to make. While most of the homemade bread frenzy died down once people went back to the office, home industry professionals are still seeing some of the ripple effects today.
One of them? Antique bread boxes are making a comeback, says Amanda Wiss, founder of the New York City-based home stage company Urban Staging. Homeowners and renters alike are adding them to their kitchens, whether as useful tools or purely for aesthetics. 
"I'm loving them as statement pieces on the counter," she says. "As someone who goes to the local farmers market every weekend, there's something so romantic about the thought of bringing home a fresh country sourdough. And with how humid New York is getting, a bread box is almost becoming a necessity."
Wondering how to incorporate a bread box into your kitchen? You could use one for its intended purpose (even if you're not necessarily baking everything from scratch, like people used to do). Stash your burger buns, English muffins, and sandwich loaf in the box and, voila! You've now freed up some space in your pantry or refrigerator. And you might even find yourself throwing out moldy bread less often, too.
"They are meant to keep humidity out to extend the shelf life of your baked goods," Wiss says.
Wiss has even seen bread boxes styled as one-stop breakfast shops, complete with bread, jam, and butter, all tucked away snuggly out of sight.
Another clever option is to use your bread box to minimize visual clutter in your kitchen, which is especially useful if the space already feels cramped. It could become storage for your spices and cooking oils, or even a place to stash your smaller kitchen gadgets, Wiss says. 
"Apartment dwellers are no stranger to double-duty decor," she says. "Like many other creative storage solutions, your bread box doesn't necessarily have to be used for its original intention. Use it to store and streamline whatever odds and ends are getting in the way of keeping your small kitchen tidy."
Wiss has two recommendations for shoppers. If you get a bread box with a flat top and a dropdown front, like this Williams Sonoma model or this Yamazaki option, you can also use it to bring even more of your personality into the kitchen.
"Use the top as a shelf, styled with cookbooks and a small vase of flowers, or with your tea caddy or coffee tray," she says.
As far as where to put it, Wiss recommends placing it somewhere that will allow you to use its contents to maximize efficiency. If you're using it for bread, that's probably near the toaster. If you're using it for your spices, maybe that's near the stove.
Bread boxes are just the latest old-school home decor item to become trendy again. From conversation pits straight out of the 1970s to reeded glass from the '20s and '30s, it feels like anything and everything vintage is in right now. 

"I am loving the nostalgic trends we're seeing out in the field," Wiss says.