Brightland Just Restocked the Constantly Sold-Out Strawberry Vinegar That We Love
We
independently
select these products—if you buy from one of our links, we may earn a commission. All prices were accurate at the time of publishing.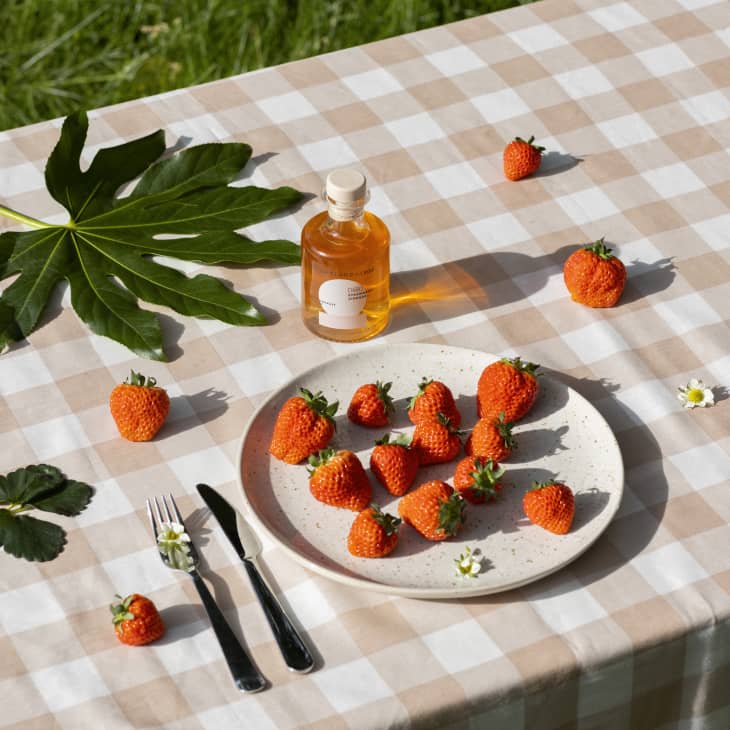 Leave it to Brightland, one of our favorite olive oil brands, to come up with one of the most creative and delicious condiments we've had the pleasure of trying. The extremely popular LUSH, a vibrant strawberry vinegar, became an instant hit when it debuted last summer — and sold out super quickly! And even with a restock earlier this year, it was still difficult to get your hands on a bottle before it was gone. Now, as a special treat for all of us fans, Brightland is yet again restocking the popular LUSH, which will become available again today, Sep. 7, at 12 p.m. ET. If you've dreamed of whipping up delicious salads with a fruity vinaigrette, you'll want to set your alarm for the minute this bottle is restocked — who knows how fast it will sell out this time?
This special vinegar is made in partnership with Oishii, a one-of-a-kind indoor vertical strawberry farm that provides super-fresh berries year-round using Omakase berry seeds from the Japanese Alps. The farm is designed to provide optimal growing conditions for these special strawberries without the need for any pesticides. The result is a juicy, seedless berry that adds exceptional sweetness to this tangy vinegar.
The release of LUSH last year was actually the first time Brightland teamed up to make a product with another brand. The collab was so successful that the company has since partnered with other purveyors for delicious products that we've tested and loved, like creamy vegan ice cream and a bold spice blend.
As for LUSH, we describe it as "summer in a bottle" thanks to its bright, crisp flavors. It's perfect for anyone who wants to savor the remaining warm days of the year and liven up produce. It's absolutely irresistible drizzled over a Panzanella salad with crusty bread and fresh tomatoes or served atop of a beautiful piece of grilled chicken. Of course, you can use this bottle year-round, since it'll be just as tasty on your favorite fall salads and decadent chocolate desserts. Brightland also suggests trying it on fresh fruit, paired with an array of soft cheeses, or to jazz up a cocktail.
We're not sure how long this new limited-release of the beloved strawberry vinegar will last. What we do know is that you'll want to add it to your cart ASAP — you can thank us later!

Buy: LUSH, $25