Brittany Chavez on Creating Shop Latinx and Cultivating a Latinx-Owned Marketplace
We independently select these products—if you buy from one of our links, we may earn a commission. All prices were accurate at the time of publishing.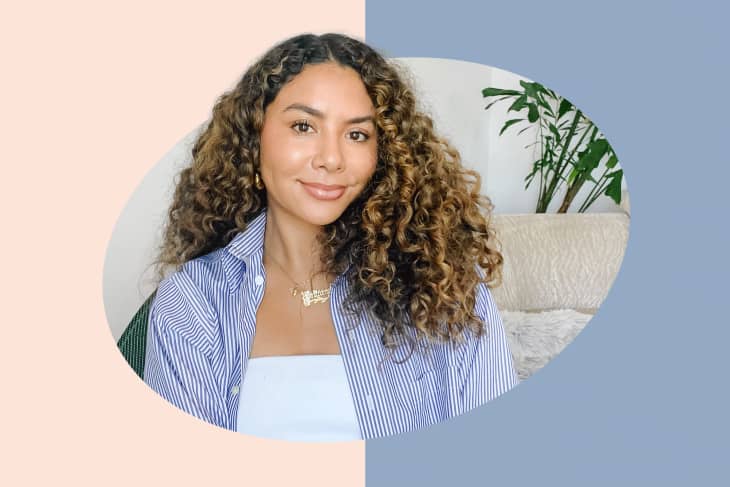 When Brittany Chavez decided to sublet in Portland, Oregon, she only planned to stay for a month. But three weeks later, she'd made up her mind — it was time for a change.
The city's fresh air and quiet atmosphere convinced her to leave her hometown of Los Angeles, marking a big chapter in the entrepreneur's life. Chavez founded Shop Latinx, a digital marketplace showcasing Latinx brands, in 2016. Now, the business has $1 million in capital and boasts a little over 70K followers on Instagram. 
Once she struck out on her own, she rented rooms around Los Angeles, often split with other people, until she settled down in Boyle Heights, California. That apartment, nestled above a convenience store, was the first time she ever lived alone. Soon, she started thinking about what she truly wanted in a home. As a kid, she remembers learning to speak to plants from her grandma, to ensure they grew well. Even when her family didn't have a ton of money to spend, Chavez's mother always made sure to light incense and invest in staple pieces that would last. Working on Shop Latinx also helped Chavez find inspiration for her a space that could be all her own. 
Her Portland apartment — which measures around 700 square feet — mixes minimalism with pops of color. A curved couch in an understated hue sits atop a bright orange rug in Chavez's living room. A dividing wall makes the perfect spot for Chavez's pothos and philodendron cordatum brasil to grow freely. Chavez was immediately drawn to the apartment's price range, along with the amenities, which include a dishwasher and washer/dryer unit. The biggest drawing point: the natural light that streams into the space.
"I just love waking up and going to sleep with the sun," says Chavez. "In Portland it rains eight months out of the year, but where my apartment is positioned, even if it's gloomy out, I still get natural light." 
Most mornings, Chavez gazes out that window to take in the view of trees, mountains and birds. She's not the only one that enjoys the glow — Chavez's Corgi/German Shepherd mix, Paula, barks when she'd like her dog bed moved into a sunny spot. 
"She's seen my home journey," Chavez says of Paula. "It's been her and I in small rooms around the valley and she's really seen my glow up. I can tell she's so much happier in this space."
Most days, Chavez is hard at work on Shop Latinx. She keeps a lit candle nearby and listens to "Genius Frequency" audio on YouTube. Two framed artworks near her desk, by Randy Perez, remind her of trips to Guatemala and her little brothers. 
Chavez says that Shop Latinx will focus increasingly on home decor and items in the near future. In creating her own space, she now keeps a few questions in mind when shopping: "Does it fit my home? Is this a classic enough piece where I would want to take this with me for years to come?" 
At this point in the business's journey, she often sees people tagging the company on Instagram to show off what they've bought for their homes. While the platform is about facilitating purchases, she says it's also about sparking "joy and connection and relationships between the designer and the customer." As someone who grew up with Latinx family and friends who often have a complicated relationship to the concept of home, this met a goal of Shop Latinx's original mission.
"I have friends that have been displaced due to immigration and they can't go back to their countries," says Chavez. "Home is a very complex term for a lot of us. A lot of us have been raised low-income. There might be a lot of trauma around the home. So to see people reclaim that, or to beautify their home with very intentional pieces — it makes me really happy."