Brooklinen's Flannel Sheet Set Is So Cozy I Don't Want to Get Out of Bed (And It's on Sale!)
We independently select these products—if you buy from one of our links, we may earn a commission. All prices were accurate at the time of publishing.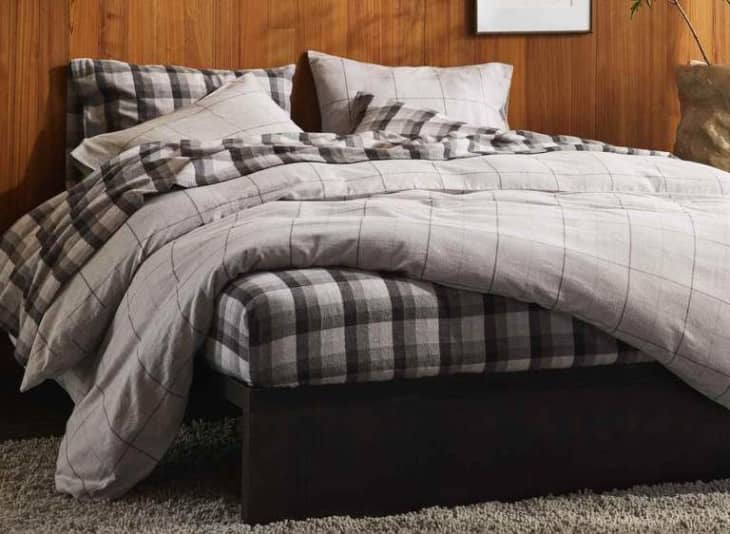 A year ago, I would have stayed far, far away from flannel sheets. I tend to get hot when I sleep, and didn't want to speed up the process by introducing flannel. Nevermind the fact that I'd never actually tried flannel sheets before, or that my only reference was flannel clothing. Pushing my own hesitation aside, I opened my mind to giving them a real shot when I had the chance to try Brooklinen's Flannel Core Sheet Set. I now wish I hadn't waited so long to take the plunge.
Follow Topics for more like this
Follow for more stories like this
I initially thought flannel sheets would be thick and stuffy. However, Brooklinen's Flannel Core sheets are anything but. Sure, they're not percale, but that's not to be expected in the first place. These sheets are meant to keep you comfortably warm, which is great for the upcoming chilly weather. Also, if you're someone who sleeps cold, flannel sheets are far less likely to only be a seasonal thing.
The Flannel Core Sheet Set is made from 100 percent flannel cotton that's soft right out of its packaging, and even softer after its first wash. As soon as I pulled them out of the dryer, I wanted to snuggle up in them and couldn't wait to make my bed! We had a cold front come through in my area, which made for ideal conditions to test them out. The set comes with a flat sheet, fitted sheet, and two pillowcases. I considered forgoing the flat sheet since I don't usually sleep with one anyway, but had second thoughts. If I was going to give these sheets a fair try, I had to risk the sweat and go all the way.
After one night with the sheets, I realized I had some serious misconceptions. These flannel sheets weren't stuffy at all. They weren't even as uncomfortably thick as I thought they might be! The sheets are deliciously soft when you sleep in them, and I actually didn't get as hot as I thought I would. They're breathable enough to help regulate your body temperature, and feel so incredibly cozy that I had the hardest time getting out of bed in the morning! I'm not really a "just five more minutes person," but the Flannel Core sheets had me holding on to those precious minutes like Gollum and the Ring.
Brooklinen's Flannel Core Sheet Set is available in five colorways that will bring that cabin living vibe to you. An added bonus: If you want to get the most out of this ultra-soft bedding, there's even a Brushed Flannel Duvet Cover to top everything off. I'm actually a little sad I'll be missing my bed sheets while traveling for the holidays, but at least it gives me something extra cozy to look forward to once I get back home!