This Simple Accessory Changed My Sleep Routine for the Better — and I Only Wish I Had Gotten It Sooner
We independently select these products—if you buy from one of our links, we may earn a commission. All prices were accurate at the time of publishing.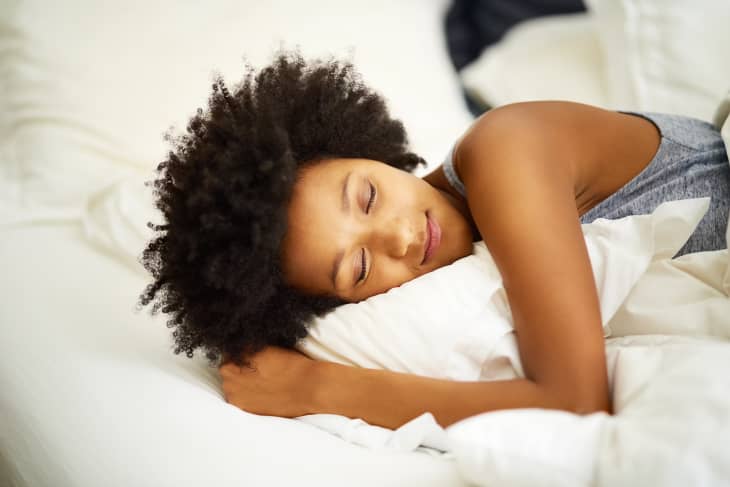 Taking excellent care of my hair is one of my Top 5 priorities, right up there with my health, family, finances, and peace of mind (in no particular order). So trust me when I say that not only is haircare important in the hours that I'm awake, but when I'm asleep, too!
Follow Topics for more like this
Follow for more stories like this
I've worn silk and satin bonnets on my hair at night for as long as I can remember. They keep my strands safe from snagging on abrasive fabrics, which can lead to hair breakage, thinning, and drying out. The problem with bonnets? They can slip off at night. An alternative (or companion) to the bonnet is silk bedding, but in the past I've been averse to silk pillowcases because I thought they required too much maintenance. That was until I tried the Mulberry Silk Pillowcase from Brooklinen.
The pillowcase arrived rolled in a little box that made it feel special before I even opened it. The long-staple mulberry silk was so shiny and buttery smooth that it slipped right between my fingers, a good sign for how it would affect my hair — I couldn't wait to start using it. What I discovered was that it wasn't only a dream for my hair, but my skin too.
I'm a stomach sleeper, so I know all about waking with pillowcase wrinkles on your face. With Brooklinen's silk pillowcase, there's no stiffness or resistance to cause bunching. As a result, I wake up with my skin as smooth as it was when I went to bed the night before. I'm a hot sleeper, too, and this pillowcase helped me stay cool. I usually flip my pillows throughout the night for some relief, so it was so nice to sleep on something super soft that doesn't trap heat.
A big factor in why I avoided silk pillowcases for so long was the upkeep. Confession: I can be pretty lazy about my laundry. I don't always separate colors or use the right detergent for specific fabrics. Sometimes I'll wash everything on tap cold or the gentle cycle just to prevent damage from my own bad habits. Hence why I was sure I'd ruin the Mulberry pillowcase almost immediately on wash day, but caring for it was way easier than I'd imagined. It's machine washable as long as you use a silk-safe detergent and wash on cold, which (see above) I was doing already. Once it's clean, lay it flat to dry, and you're done! Easy peasy.
In honor of Presidents Day, the Mulberry Silk Pillowcase is on sale for 15 percent off, but only for a limited time. While Brooklinen sent me my first pillowcase to test, I am definitely getting another one during the sale to make a matching set. Here's to facing your laundry fears!