This Actress Hand Built Her Own Funky Brooklyn Loft
We independently select these products—if you buy from one of our links, we may earn a commission. All prices were accurate at the time of publishing.
About this tour
Location
Bushwick, Brooklyn, New York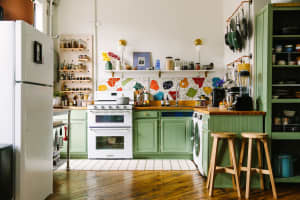 Can't-Miss House Tours Straight to Your Inbox
Keep up with our latest house tours each weekday with our House Tour of the Day newsletter
Name: Marcella Lentz-Pope
Location: Bushwick — Brooklyn, New York
Size: 1,173 square feet
Years lived in: 1 year and 3 months, renting
Tucked down a sunny, residential street in Brooklyn's Bushwick neighborhood is a short alleyway that leads into the Funky Loft of Marcella Lentz-Pope. This DIY-queen with an eye for vintage finds knows what it feels like to build something from the ground up.
A few years ago the professional entertainer decided to try her hand in real estate. Marcella discovered this Brooklyn loft space in a state akin to an industrial shell and hand-built all aspects of the interior into what it is today. The four-bedroom, one-bath is not only her home, but she shares it with a combination of curious tourists coming to visit the Big Ol' Apple, as well as models and photographers who book her colorful digs as a set. She also rents out other spaces for shoots in Los Angeles!
I loved Marcella's fun-loving, pop culture appreciation throughout her home and noticed the great detail she put into curating her collections. Her eclectic style is charming and everything about the loft was cozy, cute and colorful!
Apartment Therapy Survey:
My Style: Funky, Boho, Eclectic, my own mix of it all!
Inspiration: The '70s. Your grandmother's kitchen. Morocco. Old Movies. Anne Bancroft's House in Great Expectations. But really I just buy what I like and find a place for it. My design motto is, "If nothing goes together, everything goes together."
Favorite Element: Earth. I love potting plants and then rubbing the dirt into my hands as if it's lotion (okay, that sounds a lot creepier writing it down). I was always that child rolling around in the dirt and grass… guess I still am a kid myself.
Biggest Challenge: My closet, or rather my lack thereof. Having an open layout balcony room is really cool but that means there's no hiding anything. The good thing about the rolling rack that hangs everything is I'm able to move it around when I want to move the furniture up there, but I would love to just have it all out of the way and hidden.
What Friends Say: They love it! They all ask me if I can design their place.
Biggest Embarrassment: Our laundry machine tucked inside a large, wooden box. We built a box to hide our washer and dryer but now the top of the box has turned into our dumping ground. It's right by the front door so it's easy to just let junk pile up. It's a major eyesore to me. I clean it up for pictures, of course, but day-to-day it's a giant heap of mess!
Proudest DIY: The entire loft. When I found the space it was just one big, open, rectangular studio. I designed and built the layout (the three downstairs rooms, upstairs balcony, the sliding barn doors, staircase, swing, etc). I rent out the downstairs rooms on Airbnb and also have film and photo shoots with my other business. I know it sounds crazy to invest in a home you don't own but I couldn't afford a down payment (like many people my age); property in New York is extremely expensive and I made my investment back after only three months! I now have my rent paid every month and I'm saving up to be able to afford a space I own in the future. What I did is definitely not for everyone but it worked out really great for me. I now live in a home that I physically created and that generates income. I truly love where I live… and am proud of it!
Biggest Indulgence: Other than the investment of building the space itself my biggest indulgence is probably the 1950s Coca-Cola refrigerator. I bought it 10 years ago for around $1,600. It has Lazy Susan shelves, a built-in egg holder, and a butter dish. The inside is baby blue and I had it painted red with a Coca Cola decal. I've gotta say, once you have a vintage refrigerator you'll never want a modern one!
Best Advice: 1) Don't buy anything that you don't like because someone else says it's great. You are the one who will be seeing it everyday. 2) Want to help the environment? Buy vintage! Used, vintage, antique, thrift finds are all a form of recycling. It sounds obvious but I never actually looked at home decor that way until a couple years ago when I decided to really try and be conscious of my footprint. 3) When in doubt, put a plant there. If an area/corner feels like it's missing something, add a plant. Plants are good for the air, they add color, they look great, and as long as you take care of them, they are a one-time buy that you will have forever.
Dream Sources: The best of the best flea markets, thrift stores and antique shops. There are so many amazing pieces out there but are just way out of my price range… or zip code.
Green Velvet Sofa — Vintage from 70's Found on Craigslist $120
Large Kilim Rug — Vintage Found on Craigslist $300
Piano — Free! Found on the street in my neighborhood!
Blue Velvet Wingback Chairs – Vintage Bought at TINI in Los Angeles $450
Antique Steamer Trunk — Vintage Bought at a thrift store when I was 14!
Gold Velvet Chair & Footstool — Vintage from a thrift store in Los Angeles
Dark Wood Dresser — My mothers (I stole it from her)
Standing Mirror — Z Gallerie — This has been the only standing mirror I've ever owned and I got it when I was 12
Old Sewing Table — Dobbin Street Vintage
Mid — Century Night Stand — Urban Outfitters
Old Wood Filing Cabinet — Etsy
Thalia Basketwoven Jute Round Rug — Urban Outfitters
Shell Chandeliers — Etsy
Pallets (Under Bed) — When I was moving into my first loft in Downtown Los Angeles the tenants who were moving out left these and I've been using them ever since.
Medicine Cabinet — Etsy
Wall of Knick-Knacks — Etsy
Wallpaper — From this seller on Etsy
Toiletries Drawers — Cost Plus World Market
Shower Curtain — Anthropologie