Bryce Dallas Howard's Office Is Actually "Star Trek"-Inspired
We
independently
select these products—if you buy from one of our links, we may earn a commission. All prices were accurate at the time of publishing.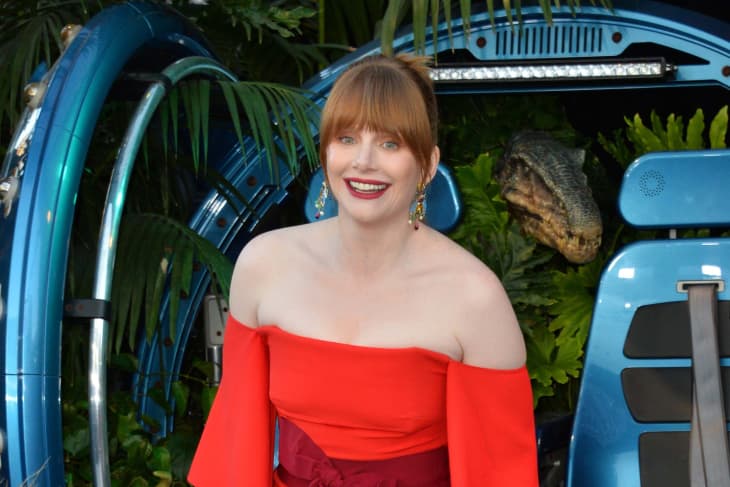 Bryce Dallas Howard and her husband Seth Gabel invited Architectural Digest into their home in early June. And the first room AD explored off the entryway is the couple's office space, which Gabel revealed was directly inspired by "Star Trek: The Next Generation".
"This office we could call 'our' office, but the truth is is that it's Seth's office," Howard said, and Gabel agreed — though they both hang out in the room often because the decor is just that good.
"The inspiration for me initially came from 'Star Trek: The Next Generation'," Gabel said. "But we were kind of going for a retro-futurism — like a 1980s depiction of what the future would look like."
Designer Claire Thomas took that idea and ran with it, creating what Gabel calls "an amalgamation of Bauhaus and art deco and neo-futuristic vibes."
"I remember growing up being like, 'I would love to live on the Starship Enterprise,'" Howard told AD. "There's a softness to the futurism of [director] Gene Roddenberry's world that feels so enticing."
As Gabel explained, most of the pieces that are most near and dear to him and Howard throughout their home are accessories inspired by their past work.
"With the window treatments [in the office], I had done a Picasso series and fell in love with Cubism," Gabel said. "And as you'll see throughout the house, we have a lot of nods to different jobs we've done and work that we love. And so, we put the Picasso vibes in here."
Even the plants were inspired by another point in time.
"We love nature, we love plants, we love green," Howard said. "The inspiration was the late Cretaceous period." She stepped aside to reveal a massive, gnarly-looking aloe plant.
"Prehistoric vibes [for] the plant life," Gabel said.
"Star Trek: The Next Generation" and prehistoric-looking plants shouldn't work, but somehow everything in this office space just feels right.