Buying a Fixer-Upper? Here's How to Tell When There's Just Too Much to Fix
We independently select these products—if you buy from one of our links, we may earn a commission. All prices were accurate at the time of publishing.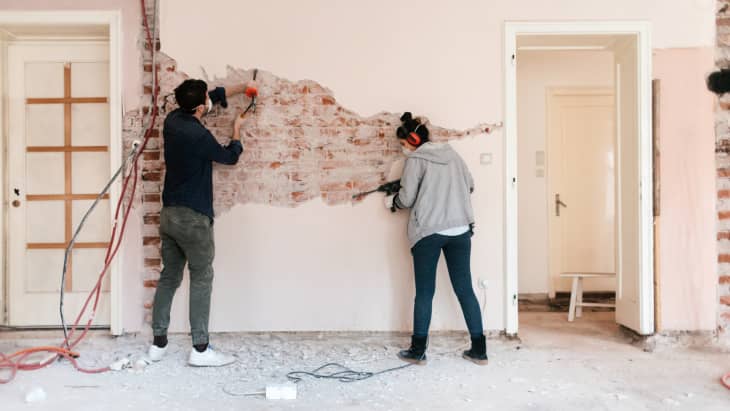 There are countless advantages to buying a fixer-upper. The biggest one is usually price: fixer-uppers tend to come much cheaper than move-in ready places, offering a good way to get into a neighborhood you might not otherwise be able to afford. A fixer-upper also provides ample opportunities for customization—you'll likely want to change out the flooring, update the kitchen, and ultimately design the home to your exact specifications. 
But sometimes, after viewing so many renovation-ready homes, you'll begin to wonder where to draw the line. When does a fixer-upper just have too much to fix? If improvements get too costly, instead of creating the home of your dreams, you'll end up with a nightmarish money pit. Here's what you need to know if you're considering purchasing a fixer-upper.
Follow Topics for more like this
Follow for more stories like this
Know how your updates will affect resale value
Buyers tend to view fixer-upper homes as a great value, but according to Mark Cianciulli of The CREM Group, sometimes a house can have what he calls a "misleading value." 
"If it's a good value, you can make repairs and upgrades that yield a solid return on your investment in terms of the after-renovation value," he says.
In cases of a misleading value, he says it might appear that you're buying a home for below-market value, but the place will need more repairs than you'll be able to recoup in the home's after-renovation value.
How can you know which category your potential home will fall in? "A good rule of thumb when looking at fixer uppers is: cost of home (sales price + closing costs) + cost of repairs/updates < what you can sell a remodeled property for," writes Darren Robertson at  Northern Virginia Home Pro.
In other words, after you factor in expenses, if you're paying more than you would get back when you sold the home, Robertson says it's probably not the right home for you.
Create a budget for unexpected expenses
If you do the math and determine that it would make sense to buy a fixer-upper, here's something else to consider: there's a good chance that your budget estimate will increase.
"The actual process of financing a fixer-upper and then putting in the work to make it a dream home is a lot more complex than most of us see on TV," warns Suzanne Seini, a realtor with Active Realty in Orange County, Calif. "Somewhat simple projects can become complicated once the demolition starts, and if costs end up higher than estimated, finishing your to-do list can take longer than anticipated."  
Your budget should allow for wiggle room in case the project goes over. Brandon Brown, broker/owner of BayBrook Realty in Laguna Beach, recommends a cushion of at least 10 percent extra. "Then it is all about the acquisition price to determine if it's going to be too expensive or not," he explains. 
Brown has encountered homes that could have been torn down, but were priced cheaply enough to warrant renovations. "However, having been a part of over 2,000 renovations since 2008, I can tell you that it is common to go over budget due to unexpected issues, or oftentimes last-minute finishes that weren't considered, but were desired to give it that perfect final touch," he says.
Keep an eye out for 4 key issues
There are four specific problems in a fixer-upper that could cost you big bucks.
Structural: "If there is moving of walls or windows, you will likely be engaging in structural work," warns Ciancuilli. He says this type of work is expensive and takes time. "It requires engineering plans, submitting the plans to check processes with the city, and permits." 
And then there's the construction side. "Structural work typically requires demo, minor foundation work (typically footings), framing, moving electrical, drywall work, framing doors, painting, stucco/siding work (for windows), and possible asbestos testing/remediation." You could be looking at $10,000 just for the structural work itself, in addition to the other costs.
Roof: Depending on the size and style of the roof, Ciancuilli says a new roof could cost $10,000 or more.
Electrical: "Electrical work can involve replacing a panel, sub-panel, wiring, and outlets, all of which can add up quickly, typically $8,000 and up," Ciancuilli says.
Plumbing: Plumbing work can be very costly if you are repiping an entire house, which can be required if a home contains galvanized piping (since lead can be released in the water when the pipes begin to corrode)," Ciancuilli explains. He says repiping a home would typically cost $9,000 or more.
And money isn't the only issue with major repairs. They take time. So potential homeowners should also consider where they will live while the repairs are being done, or if they would be able to stay in the house while it's being worked on.
Consider cosmetic changes to be your friend
"For buyers taking on their first fixer upper, it's sometimes best to start with a solid property that primarily needs cosmetic updating throughout—kitchen, bathroom, flooring, paint, etc." advises Robertson. "Even then, you will likely encounter some older systems in the home, but as long as they're working fine and don't need to be updated immediately, it could still be a good purchase."
Seini says updating kitchens and bathrooms are doable first-time projects. "A fixer-upper is a house that has a structure that is mostly intact—you're not paying to rebuild a house," Seini says. "That's why it's important to have the right inspector who will be honest and let you know upfront how much repairs are going to cost."
Listen to your home inspector
The home inspector is a vitally important part of the home-buying process, but only if you take this person's advice to heart. Malisa Miller Eakins, a real estate broker at West + Main Homes in Denver, Colo., had clients who purchased a fixer-upper several years ago against their home inspector's advice."The endless projects have left them overwhelmed, and the home projects they want to do have taken a backseat to the projects they have to do," she says, adding that it has placed strain on the couple's marriage. "They still aren't close to finishing their home, and it's likely that when they do, the projects that they did first will be ready to be freshened up again."