Buying a House Is Hard. Buying One as a Chronically Ill and Disabled Woman Was Much Harder
We
independently
select these products—if you buy from one of our links, we may earn a commission. All prices were accurate at the time of publishing.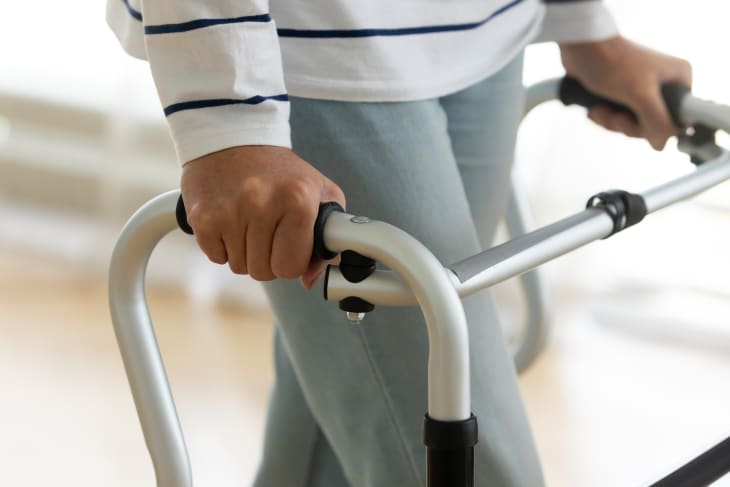 I felt an overwhelming wave of relief when we got the call from our real estate agent telling us our offer was accepted.
Like many couples during the COVID-19 pandemic, my husband and I realized we needed more space and thus began the house-hunting process. But we didn't just need more space to accommodate work-from-home setups or to combat the stir-crazy feelings that sheltering in place brought on. Our decision to find a bigger home, in all honesty, felt like life or death. And because the pandemic brought on such an enormous housing boom — especially where I live in Charleston, South Carolina — I thought it was a real possibility I'd have to settle for a poor quality of life.
I have Ehlers-Danlos Syndrome and intracranial hypertension. Because of these conditions, I have trouble walking, bending over to pick things up that I often drop, and can get disoriented quickly. I've had 12 brain procedures, 4 brain surgeries, and 4 spinal surgeries. I rely on a rollator (a mobility aid) and my sweet, incredible service dog, Wheatie. 
Before moving into our current home, my husband and I lived in a third-story apartment that was only accessible by stairs. As I recovered from one of my brain surgeries, I had to stay in the hospital longer because there was no physical way I could get to my front door. I spent that time in recovery feeling stressed — I knew the hospital was a risky place to stay because of the pandemic, and I also knew that going home to my safe four walls was impossible. When I finally did get discharged, I needed family and friends to come stay with me. Unfortunately, our small apartment was not big enough to comfortably accommodate my parents, my best friend Julia, my sisters, and whoever else might need to come help my husband in taking care of me. 
Aside from the stairs, the pandemic sparked new dangers for me within our apartment complex. As someone who is immunocompromised, every time I passed someone in the hall who was not wearing a mask, I'd wonder if that brief interaction would land me in the hospital with COVID. 
My husband and I had wanted to wait a few more years before buying a home for a variety of reasons: we were newlyweds, I own a small business, and we wanted to save up. But my disabilities and illnesses pushed up our timeline and made us one of the many people who were searching for a home in 2020. 
So, we hired our real estate agent and began the search.
Like many first-time buyers, we had a list of features we wanted: three bedrooms, two bathrooms, new appliances — ideally, a place that wasn't much of a fixer-upper. Still, we needed much more than that. We had to find a one-story home that was spacious enough for me to move around with my rollator. It was imperative to have a backyard for Wheatie to run around in, and be in a neighborhood that was close to a hospital in case of an emergency. I also couldn't be too far from friends and family, since I'm unable to drive.