Buying a House Is Hard. Buying One as a Chronically Ill and Disabled Woman Was Much Harder
We independently select these products—if you buy from one of our links, we may earn a commission. All prices were accurate at the time of publishing.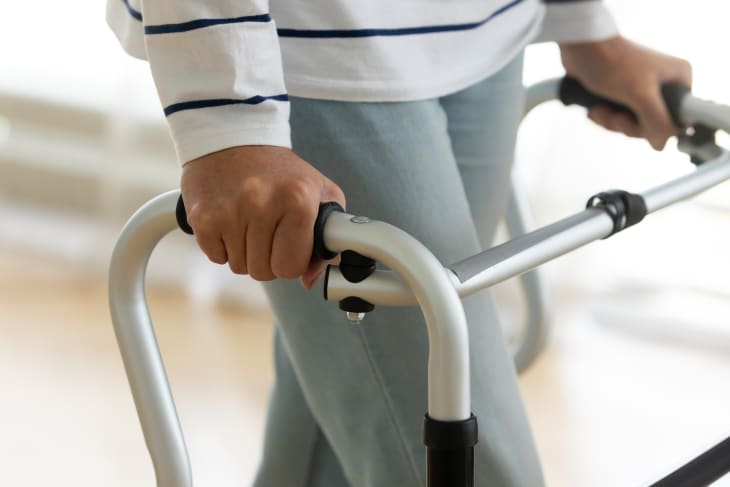 I felt an overwhelming wave of relief when we got the call from our real estate agent telling us our offer was accepted.
Like many couples during the COVID-19 pandemic, my husband and I realized we needed more space and thus began the house-hunting process. But we didn't just need more space to accommodate work-from-home setups or to combat the stir-crazy feelings that sheltering in place brought on. Our decision to find a bigger home, in all honesty, felt like life or death. And because the pandemic brought on such an enormous housing boom — especially where I live in Charleston, South Carolina — I thought it was a real possibility I'd have to settle for a poor quality of life.
I have Ehlers-Danlos Syndrome and intracranial hypertension. Because of these conditions, I have trouble walking, bending over to pick things up that I often drop, and can get disoriented quickly. I've had 12 brain procedures, 4 brain surgeries, and 4 spinal surgeries. I rely on a rollator (a mobility aid) and my sweet, incredible service dog, Wheatie. 
Before moving into our current home, my husband and I lived in a third-story apartment that was only accessible by stairs. As I recovered from one of my brain surgeries, I had to stay in the hospital longer because there was no physical way I could get to my front door. I spent that time in recovery feeling stressed — I knew the hospital was a risky place to stay because of the pandemic, and I also knew that going home to my safe four walls was impossible. When I finally did get discharged, I needed family and friends to come stay with me. Unfortunately, our small apartment was not big enough to comfortably accommodate my parents, my best friend Julia, my sisters, and whoever else might need to come help my husband in taking care of me. 
Aside from the stairs, the pandemic sparked new dangers for me within our apartment complex. As someone who is immunocompromised, every time I passed someone in the hall who was not wearing a mask, I'd wonder if that brief interaction would land me in the hospital with COVID. 
My husband and I had wanted to wait a few more years before buying a home for a variety of reasons: we were newlyweds, I own a small business, and we wanted to save up. But my disabilities and illnesses pushed up our timeline and made us one of the many people who were searching for a home in 2020. 
So, we hired our real estate agent and began the search.
Like many first-time buyers, we had a list of features we wanted: three bedrooms, two bathrooms, new appliances — ideally, a place that wasn't much of a fixer-upper. Still, we needed much more than that. We had to find a one-story home that was spacious enough for me to move around with my rollator. It was imperative to have a backyard for Wheatie to run around in, and be in a neighborhood that was close to a hospital in case of an emergency. I also couldn't be too far from friends and family, since I'm unable to drive.
Of course, all of these things that were non-negotiables for us were also attractive to other homebuyers. Open floor plans are incredibly trendy, and young couples like us wanted a home with a backyard, room to grow, and a central location. It turns out open floor plans are hard to come by in Charleston, with so many older homes made up of smaller rooms. 
At the time we were searching, open houses weren't being held because of the pandemic, so home tours had to be scheduled individually. Since offers were being submitted as early as 24 hours after a home was listed, we needed to pounce on every open viewing we could and make an offer as soon as we saw it. There was no time to wait. Tour after tour, offer after offer, we were getting constantly turned down for cash offers — which has become the name of the game in the real estate world.
I felt so defeated. I contemplated submitting letters with our offers to sellers, letting them know how much I needed their house so that I could continue to live my life as independently as possible. I would lay awake at night and wonder: should I use my disability to help get me the home that I desperately needed? 
In the end, I decided against it. Our real estate agent told us that it wouldn't matter. Many of the homes were being bought and sold by investors, all looking to make as much money as possible. The housing market just didn't care about me, Jayne, a young disabled woman in South Carolina. I couldn't compete with attractive cash offers with all of my college debt and endless medical bills. 
We grew even more desperate as every offer we made was beat out. So, we started looking at homes that did not meet all of our criteria. I had to decide which home features would hinder my quality of life the least. One day, we visited a multi-level townhome. I sat on my butt to slide down the stairs during the tour since I couldn't walk down them. I tried to tell myself that I could do this every day for the next several years. Then, we visited a home where my service dog, Wheatie, uncontrollably shook throughout the tour. He's normally even-tempered and unflappable, and so his reaction made the house an immediate "no" for me. 
Several offers later, we finally got our home. The stars aligned just enough to make it happen. A previous offer had fallen through, and it had been on the market for almost a week, which is a long time in the current housing market. During the inspection we found issues with the foundation, but since we were so nervous about letting yet another house slip through our fingers, it didn't faze us. (Fortunately, the seller said they would fix it — and they did.)
Our new home is great — my quality of life since moving in has infinitely improved. Our newly renovated one-level house has three bedrooms and two bathrooms. It has an open floor plan, too, so I have plenty of space to move around with my mobility aid. As the cherry on top, we have a big, private yard that my family helped build a fence for, so I can soak up the sun with my dogs.
Of course, we did have to settle on some things, as most homebuyers do. Our home is farther out in the suburbs, which makes me feel pretty isolated. I can't drive, so I spend a lot of time at home and have to rely on others to drive me around. Fortunately we're about 20 minutes from a hospital, but that was as far as I was willing to be from one.
I should stress that I'm so grateful that we found a house, that we were financially able to buy a home, and that I am able to move around freely within my home. That said, it was a really, really difficult and scary time for my husband and I.
Throughout this whole process, I've realized just how important having accessible housing is — and how a lack of humanity in this cutthroat housing market only further marginalizes people. Investors buying and flipping homes to make a profit has become a lucrative business. But to me, having an accessible, livable, comfortable home is so much more than a dollar sign. As we learn to live with the pandemic and other hardships, I think we should look for ways to bring more humanity and understanding into all aspects of our society —and that includes buying and selling homes.