How to Match Your Candle to the Music You're Listening to Right Now, According to an Expert
We independently select these products—if you buy from one of our links, we may earn a commission. All prices were accurate at the time of publishing.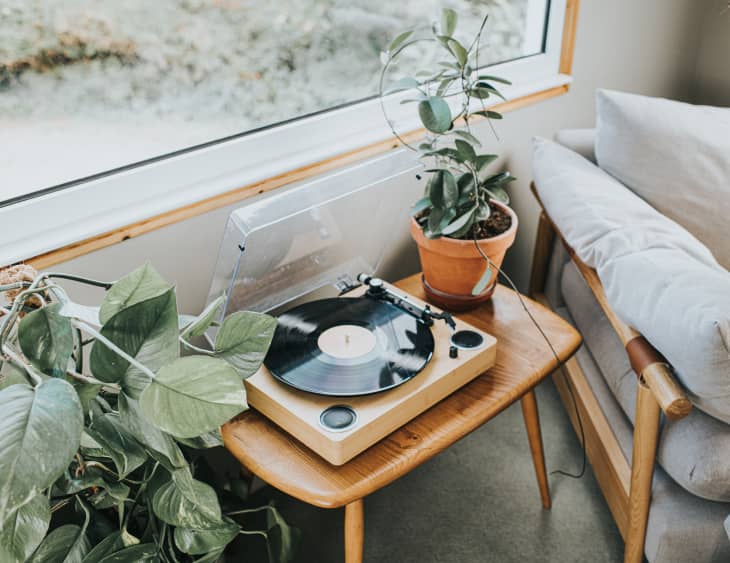 There's always been something magnetic between candles and music. Is there anything more soothing and enjoyable than turning up the volume on a favorite song and getting a whiff of your favorite scent? Try to count how many times you've had the subconscious draw to light up a votive before spinning a beloved record and you'll probably run out of fingers. Turns out, there's science behind this innate desire. Multiple studies have shown how scents and tones presented together not only suppress or increase certain activity in the brain but change human perception overall.
Follow Topics for more like this
Follow for more stories like this
Luckily, there are ways to deepen that experience by pairing the notes of a song to the notes of a candle — or even listen to music while lighting a candle created by the very artist you're listening to. Here are three ways to let your music lead you to the right candle, or let the right candle direct you to the perfect playlist. 
Let the artists lead you to the right candle.
Over the years, plenty of artists have developed their own perfumes, so it only makes sense that some are getting into candles, too. Take Kacey Musgraves' collaboration with Boy Smells, a candle called Slow Burn that transforms the sentimental and measured country track by the same name into an award-winning (and often sold-out) wax version of her song. Musgraves called the black pepper, smoked papyrus, incense-scented candle "a little dank, a little crisp" and "the 'sentiment' of 'Slow Burn.'" 
Tyler the Creator took a different approach with his "Coldwater" candle; instead of being inspired by one of his songs, he was inspired by an overall feeling. His brand Golf Wang collaborated with fragrance label retaW on a scent that Tyler likened to the "soft but crisp floral type scents I've always worn and candles I've always burned," resulting in a candle meant for both "body and soul."
When it comes to finding the perfect candle for every listening session, there's truly something for everyone, even for those interested in feeling closer to the actual artist, and not just their sound. "I can just imagine what the studio felt like as The Rolling Stones recorded their tunes: Steamy, rhythmic, and the sweet smells of creating pure gold," Samm Stangeland, the founder of Rock & Roll Candle Co., tells Apartment Therapy. She created her candle company to go a step further and transmute classic rock songs into scents and found inspiration in the Stones's vibe when creating Rock & Roll Candle Co.'s Brown Sugar candle. And retailer Revolve claims that the Carby Musk candle by Drake's Better World Fragrance House, with its notes of musk, ambers, cashmere, suede, and velvet, "actually smells like Drake."
Let the scent of the candle bring you to a specific song.
Even scents that aren't necessarily created with music in mind have a way of capturing the certain sentiment of a song. D.S. & Durga, a perfume company founded by an architect and a musician, seems to understand the pairing of smell and sound well, even adding liner notes and playlists to their product listings so customers have a soundtrack to experience their candles with. Before even clicking through to hear which tracks were chosen for the eucalyptus root, pacific spray, and wet wood notes of their candle Big Sur After Rain, I hypothesized correctly that Led Zeppelin's moody '70s ballad, "Going to California" would make the playlist. You can almost feel the breeze and inhale the air of cool west coast night while listening, an experience the candle captures as well.
Let your mood guide you to the right scent and sound.
Deciding whether a sound or scent is suitable will always be a subjective process, centered around the person experiencing it and what they wish to experience. For that reason, it's difficult to find a song, artist, or in this case, a scent, that every person agrees with. It is possible, however, to choose a candle with your mood, and the warmth music conjures up, in mind. 
Heretic Parfum decided to convert their best selling fragrance, Dirty Vanilla, into candle form, and with its vine-grown vanilla bean base and hints of soft sandalwood and spicy coriander, it seems to be an apt choice to pair with whatever music you're listening to — whether that's a soulful R&B ballad, lovelorn acoustic guitar track, or pop-centric love songs (and not just because Dirty Vanilla could double as a band name.) There's also Brooklyn Candle Studio's Santal Minimalist Candle which blends earthy and woodsy smells, and because multiple reviewers described it as "not overpowering" it could work as a clean slate to start with, and lend itself to any mood or playlist that calls to you. 
"I think it just gives you that warm hug of a feeling," Stangeland says. "There's nothing cold about it. It can work universally in any setting, but I think it really takes you home as well."