Watch This Mom Make an Entire Tokyo Marketplace for Her Daughter out of Cardboard
We independently select these products—if you buy from one of our links, we may earn a commission. All prices were accurate at the time of publishing.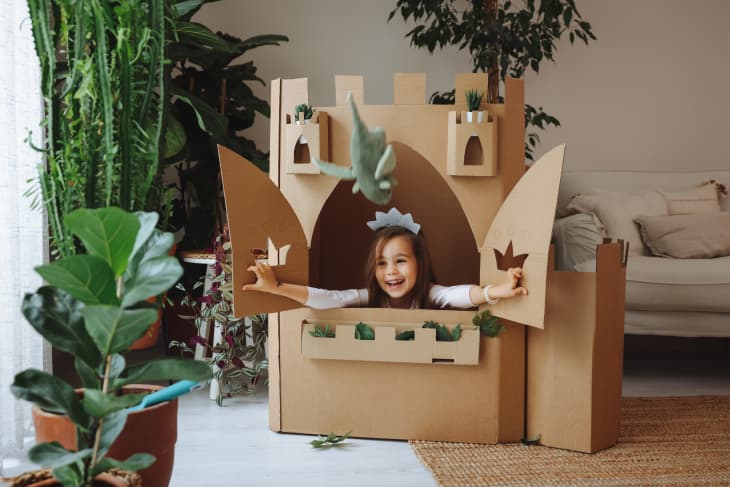 When Sherri Madison's daughter said she wanted a Tokyo-themed birthday, Madison saw an opportunity to make this party the most memorable one yet. Madison, who goes by @thecardboardqueen on TikTok, is an artist who specializes in creating masterpieces out of recycled shipping boxes. She's made cardboard furniture, costumes, baskets, and jewelry, and now it was time to craft an entire Tokyo marketplace all out of recycled shipping boxes.
And because she's the queen, Madison pulled out all the stops. She first started by creating the facade of alleyway storefronts using large recycled shipping boxes, cutting doors and windows into each one as she went. She even created a sliding door for one of the stores. 
Follow Topics for more like this
Follow for more stories like this
Then it was time to paint and decorate. These facades became a sushi restaurant, boba shop, cat cafe, and even a Gudetama store. And behind each storefront, Madison set up a sleep area for each of her daughter's friends that fit the theme of the shop they're staying in.
"Why do I suddenly feel like I have never been loved enough?" one TikTok commenter joked. "This needs to be in a museum," another added. And so many people were concerned with the idea of this entire thing being taken down after the sleepover.
In a comment on a follow-up video, Madison said that the sleepover went off without a hitch and the marketplace is still up in their living room. "It's still up," she wrote. "I have a very cool husband." 
If Madison decides to keep the marketplace up forever, there are more than a few people in the comments who wouldn't mind moving in and paying top-dollar rent.