This Game-Changing Glow Light Is the Sleep Solution I Wish I'd Tried Sooner (Bonus: It's on Sale!)
We independently select these products—if you buy from one of our links, we may earn a commission. All prices were accurate at the time of publishing.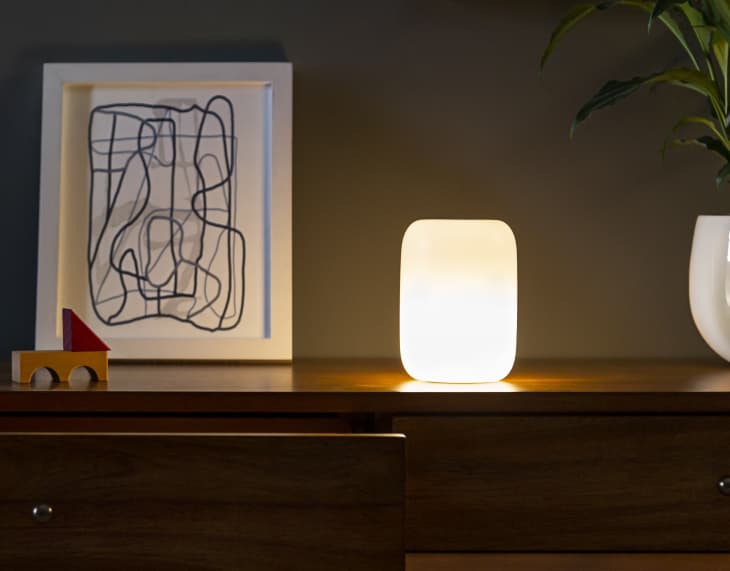 Lately, falling asleep hasn't been as easy as it ought to be. Since my WFH setup is currently in my bedroom, this part of the house is now where I spend most of my time as I power though my daily tasks. So, it doesn't quite feel like the sleep haven it used to be. There's also the extra fatigue I tend to experience just before daylight savings starts, which certainly hasn't made matters any better.
Some nights, no matter how exhausted I am, drifting peacefully to sleep takes some time. I find myself taking on the terrible habit of scrolling through social media until my eyes feel heavy. Obviously, this is not the healthiest way to catch some zzz's. After doing some research on products that have helped others adopt a more regimented sleep schedule, I came across the Casper Glow Light and decided to give it a try. After a few nights of use, I questioned why I hadn't bought it sooner.
The Casper Glow Light is essentially a smart nightlight that gradually dims to lull you to sleep. It wakes you up in the same non-abrupt fashion, filling your room with pleasant lighting right up until your morning wake-up time.
I'll be honest and say that I wasn't exactly jazzed at the idea of adding yet another product to my nightstand. Too many objects placed near or on my bed makes me feel cluttered. Thankfully the Glow Light's sleek, cylindrical design, wasn't at all an eyesore and didn't feel cumbersome. Since I'm a sucker for clever packaging, I instantly loved the fact that this light brightened as soon as I opened the box, giving me a sneak peek of how it functions.
The lightweight device comes with two buttons on both of its ends, and you press either one to turn the light on or off. You can twist the light to the left to dim it or to the right to raise its brightness. If you're getting up in the middle of the night for a drink of water and don't want to wake up your partner or kids, all you have to do is firmly shake the light back and forth and it becomes your personal flashlight.
For me, the real magic of the Casper Glow Light happened when I downloaded the Casper app. While it is possible to operate the light without it, the app allows you to control what time you want to start the dimming process at night and brightening in the morning. This light has made me much less restless as I wind down for bed, and I'm able to fall asleep faster. I like to get up around 6 a.m. to hit the gym before starting work, and the sun isn't particularly beaming at that hour. Since using the Casper Glow Light, waking up isn't as startling of an experience as it is when I rely solely on my phone's alarm.
The price of the Casper Glow Light is a little on the expensive side ($129 each), but you can get it for 50 percent off at Casper's 4th of July Sale today through July 11. Coming in under $65, there's no better time to get one! Even if it wasn't on sale, given the positive effect it's had on my sleep habits and its ease of use, I'd say it was totally worth it. The soft, warm light it emits is just bright enough to get the job done, and surprisingly, I've found waking up to the Glow Light puts me in a better morning mood.
Lesson of the day: Better sleep is always worth the splurge.

Buy: Casper Glow Light, $64.50 (normally $129)