There's a "Cave Room" in This House for Sale, and TikTok Has Questions
We
independently
select these products—if you buy from one of our links, we may earn a commission. All prices were accurate at the time of publishing.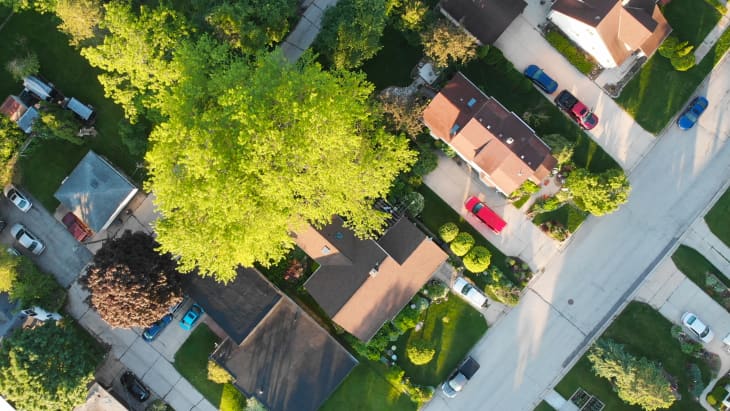 As the real estate listing describes this home in Nappanee, Indiana, "This is a 'Must See to Believe' property" — but not exactly for the reason the rest of the description states. Sure, this enormous home is gorgeous, with its renovated kitchen, updated living spaces, and contemporary-meets-mod design. But it's the space just off the living room on the main level that is throwing people on TikTok for a loop.
"It's a renovated 18,000-square-foot retro home with some original features, a brand-new kitchen, and eleven baths … and an enormous basement for entertaining," the TikToker behind the @zillowtastrophes account says in a recent video. "But it's not all these upgrades I need to show you. Who's ready to see the cave room?"
Yeah, you read that right. There's a room that is made to look like the inside of a rock cave. "This entire room is covered — floors, walls, and ceiling — in brown shag carpeting," @zillowtastrophes continues. "And someone has built in these little hills and valleys. Is it for children to play in? Is it for animals? Is it for adults? … I have truly no clue what this is."
The photos of the cave room are mysteriously absent from the Zillow listing, but thankfully Realtor.com got the scoop. The room is described in both listings as a "unique cave room for kids," but the whole "why" question remains unanswered.
Thankfully, other TikTok users have a few ideas. "It's for an extreme mountain biking for hamsters competition," one wrote in the comments. "Photo shoots," another suggested. Hmm, questionable.
But some are more concerned with logistics: "Okay but how do you vacuum it?!?!" one person asked.
Whatever this cave room is used for is for the new owners to decide. At least TikTok has given them a few good ideas to toy around with.