I Tried an Iron from the Brand Behind One of My Favorite Hair-Styling Tools — Here's How It Measured Up
We
independently
select these products—if you buy from one of our links, we may earn a commission. All prices were accurate at the time of publishing.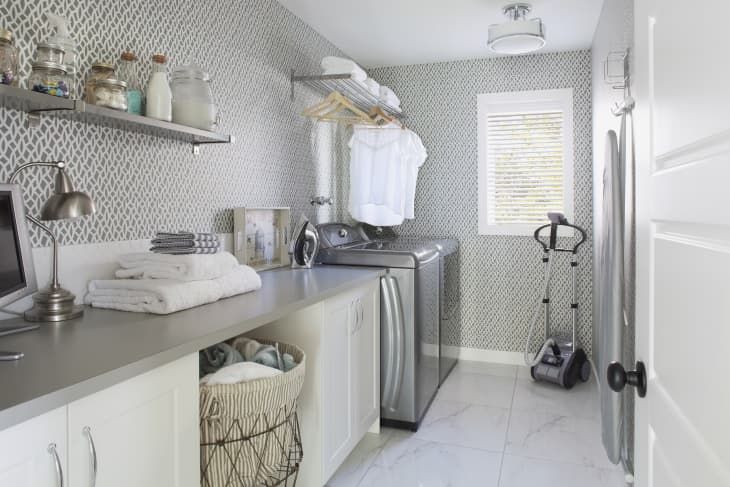 When I first discovered that the ultra-trendy hair care brand CHI made a jump into the home space, I couldn't have been more thrilled. Their handheld steamer is my go-to for travel and is super convenient for home use. Based on that alone, I had high hopes for other products in the collection. CHI transitioned their innovative technology from flat irons to home goods; and knowing the impressive results the brand made on my hair in college (without damaging it), I was confident that a similar thoughtfulness went into their Retractable Cord Clothing Iron.
According to CHI, the Retractable Cord Clothing Iron is "designed to give you the high-performance power of the pros at home." It's equipped with a scratch-resistant, titanium-infused ceramic plate, comparable to their famous flat irons, and an easy-grip handle for comfort. I don't iron very often, and have plenty of wrinkled clothes as proof, so I was able to pull a few garments in varying fabrics to test this one out. I loved the clear-cut temperature control of the iron. I was able to set the temperature by fabric type so I could adjust it as needed; whether I was smoothing out my highly-durable cottons or delicate silk and polyester pieces. The iron moved cleanly over the clothing, and I didn't feel like I had to fight with it to get a good angle. 
One of my pet peeves with irons in general is what to do with the cord. I always hated wrapping them around the iron because of how messy it looked, and sometimes it would tangle or cause the iron to be unbalanced and difficult to put away! The retractable cord of CHI's iron is a nice touch to remove the unsightly headache of cord-wrapping altogether.
For a second opinion on the Retractable Cord Iron by CHI, I had to pass it along to my aunt, who's currently working as a nurse, but is also a licensed hairdresser. She's the one who took care of my hair for years when she owned her own salon, and introduced me to CHI's hair-styling products in my youth. I had been apprehensive about using the steam feature of the iron because of a history of water splashing on my clothes and leaving spots, but she went all in with it! The iron boasts over 400 steam holes, and the steam itself is adjustable, which makes the process way less messy. While ironing linens, we noticed that the steam from the iron didn't leave the clothing wet at all, and we didn't have to go over the apparel repeatedly for a good result. The iron warmed up quickly, created clean lines, and smoothed out wrinkles seamlessly. To me, it seemed like it worked just as well on clothes as the flat iron did for my hair!
In the end, I felt good about CHI creating products that I could trust, whether they were for hair or the home. Even though the reviews for the Retractable Cord Clothing Iron speak for themselves, it was great to see it with my own eyes. I may not iron much, but I know a good one when I see it. I'm even thinking about recommending it to my dad, if he'll ever let his old iron go!