Chip & Joanna Gaines' First Home Was Actually a Complete Mess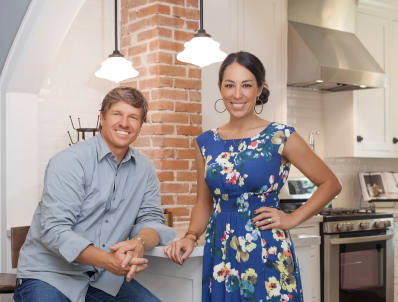 (Image credit: Courtesy of HGTV)
We all have to start somewhere, and that includes Chip and Joanna Gaines. The Fixer Upper stars might be worth millions today, but they were newlyweds once, and just getting started out as a young couple while living in Waco, Texas. And apparently, their early homes were a far cry from their current sweet farmhouse setup.
We recently asked Chip what he remembers about the first home they shared back in the day, before there were all the kids and animals running around. Here's what he had to say:
I owned some rental properties in Waco and one of them happened to become vacant right around the time Jo and I got married. It was a yellow ranch-style house—about 1,200 square feet or so. We were so excited to be moving into our first home together, but honestly, the place was a complete mess.
I think a lot of us can relate to the scenario. There's always something exciting about starting a fresh chapter with the person you love and pouring all your hopes and dreams into improving your space, even if the space itself is less than ideal. In fact, the couple would go on to live in more humble houses, which Joanna fondly recalls. She recently reminisced about this small white 800-square-foot number on Instagram:
Before anyone gets too weepy, we all know the Chip and Joanna Gaines story has a happy ending — they went on to create several successful businesses and have product lines with Target, in addition to their wildly successful HGTV show and planned spin off — perhaps all of which can be traced back to those early days when their living situation was so not glamorous. Says Chip:
At the time, [the house] was far from Jo's dream, but it became the first of many home renovations that we'd do together, and it ignited a real passion in both of us. That house may have needed a lot of work, but together, we made it our home. By the time we got around to tackling the farmhouse, we'd had a lot more practice in home renovations, but just like our first house, it required that we put in a lot of hours to get it to a place where it felt like us and our family.
Although Fixer Upper has officially ended, Chip and Joanna aren't going anywhere: the Fixer Upper spinoff airs in May and will share behind-the-scenes looks at their past renovations. Stay tuned.