Christina's Loft With a Hint of "Rococo Glam"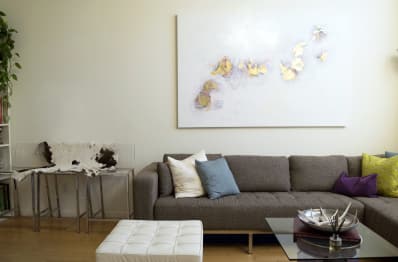 (Image credit: Submitted by Christina)
Name: Christina
Location: Mid City Arts District — Santa Monica, California
My home is a light-filled and well-proportioned 550 square foot loft-style condominium in the Mid-City (Arts District) area of Santa Monica, California. I've lived here for three years and love it. I chose this area because it's a short walk or bike ride to all the action but far enough away that I'm not in the thick of it all. I get amazing light during the day and sea breezes year-round, plus some great neighbors and a killer roof view.
(Image credit: Submitted by Christina)
There are a lot of different style elements that I incorporate... so I guess I'd have to say my style is eclectic! The space itself is pretty modern, so my major furniture pieces are also minimal, but there are plenty hints of color and rococo glam with some more natural/rustic elements throughout. I think my home is a pretty true reflection of my own personal style and personality- a little mix of everything, but never taking any one style too literally.
(Image credit: Submitted by Christina)
Nearly every piece in my home has a special story behind it and every inch has a personal touch. I'm most proud of the pieces I handmade/refinished like the ugly cabinets I re-painted, my headboard (formerly a friend's fence), desk chair (from the alley) and wall paintings (inspired by #12) Except for the CB2 vapor chairs & stainless steel table- everything else was from thrift stores, Craigslist, Etsy or from family & friends. Staying low budget helped me splurge in other places without sacrificing, but overall everything came together pretty organically. And of course, a lot of my inspiration is from Apartment Therapy stalking :) Daniel's Eclectic Industrial Loft is one of my all-time favorites!
(Image credit: Submitted by Christina)
(Image credit: Submitted by Christina)
It's hard to say what my favorite room is since it really is just one big box... but each nook and cranny is fully utilized for a different purpose. If I had to pick one I'd probably say my patio because it is home to my living wall. One step closer to being a crazy plant lady :)
Thanks, Christina !
• Interested in sharing your home with Apartment Therapy? Contact the editors through our House Tour & House Call Submission Form.