I Swear Everyone Is Overlooking This Thrifting Holy Grail
We
independently
select these products—if you buy from one of our links, we may earn a commission. All prices were accurate at the time of publishing.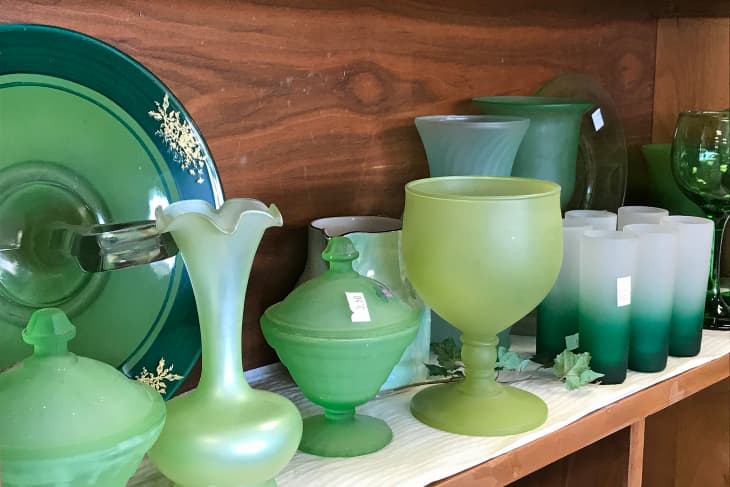 I've spent many weekends of my life reveling in the fluorescent-lit aisles of Salvation Army, Savers, and Goodwill. There is no greater thrill than plucking a 1970s Massachusetts-themed commemorative plate from a shelf, then discovering it's only $3.
I used to think that kind of experience could not be topped — until my thrifting game was entirely revolutionized. I discovered a kind of thrift store that my peers are overlooking entirely. It's a place where the gentle grandmas of the world convene underground. Some are dropping off a couple of Talbots blazers to donate, others are cruising for a new decorative platter for their baked goods. Then there's me, stuffing a reusable tote with vintage candlesticks, sculptural vases, and home decor books from the '80s.
This magical kind of thrift store is hiding in plain sight; I guarantee you there's one within a few miles of your home. I'm referring to church basements, and now that you've been reminded of them, your secondhand strategy will never be the same.
To be clear, thrift shops run by churches are nothing new. But in a world where chain stores reign supreme, church basement thrift stores are a holy grail of sorts. (Pun intended.) They fly under the radar, sometimes even escaping the thrift shop designation on Google Maps. They're low-key additions to many faith-based organizations; the goal is to make a little extra money to support the church and to help families in need. To do that, parishioners donate the items that are sold in the shop, and oftentimes what they donate is one of a kind.
I know because all of my best furniture and decor finds from the past three years have been from church thrift stores. I've been frequenting the ones up and down the arm of Cape Cod every chance I get. My finds include a gorgeous wood coffee table with a pink marble top, a framed Mondrian-esque original painting, a vintage coffee table book filled with beautiful New England homes, a couple of striped boatneck blouses, and more. All of my purchases were inexpensive, of course, and it's nice knowing that my dollars are going straight to the church I'm buying from. I particularly love the added bonus of chatting with the nice ladies volunteering their time to run the shops. What's a good find if you can't celebrate it with a fellow thrifting enthusiast? 

The next time you set out to spend a Saturday thrifting, I encourage you to scope out the church basement shop nearest you. I'm sure some treasures — and some charming churchgoers — are waiting.