These 10 Cities Ranked for Having the Lowest Cost of Living in 2021
We independently select these products—if you buy from one of our links, we may earn a commission. All prices were accurate at the time of publishing.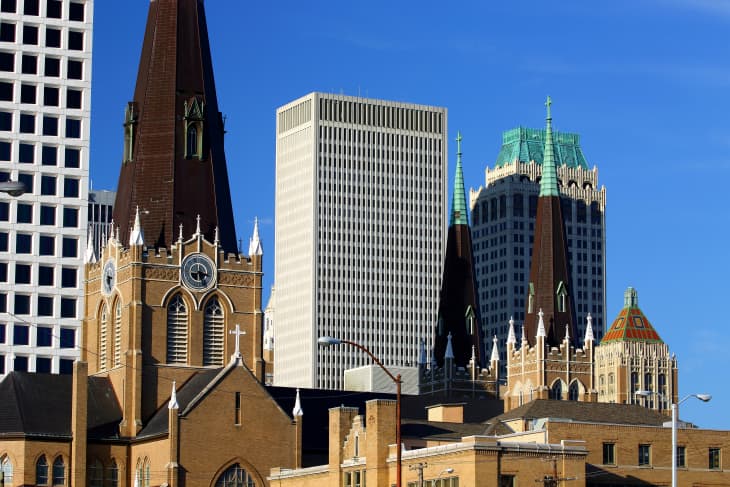 Follow Topics for more like this
Follow for more stories like this
Researchers ranked the 74 most populous cities in the country based on standard living costs like groceries, utilities, gas, and rent. They also looked at the median income in each locale, so you'll know what you might earn if you move there. Each one was ranked based on current population numbers from the census.
As you might expect, the majority of the top ten most expensive places to live are in California. Honolulu, Seattle, and Boston are the three non-California cities on the list, surrounded by places like Irvine (the highest cost of living at $3,062 per month), San Jose, San Francisco, San Diego, and Anaheim.
The lowest cost of living cities are a much broader regional spread. Wichita, Kansas, has the lowest at $1,219 monthly. Other states on the list include Ohio, Oklahoma, Mississippi, Tennessee, and Indiana.
One of the most interesting findings in the study is that some cities are virtually impossible to live in on your own. Honolulu, for example, has the fifth highest cost of living and the lowest median income of the top ten places. And in Santa Ana, California, the cost of living almost matches the median income exactly — so it would be incredibly difficult to sustain a solo lifestyle in the city.
If you're itching to move somewhere where you can save money rather than spend it all on monthly expenses, here's the breakdown of the ten cities with the lowest cost of living.
Monthly cost of living: $1,219
Median yearly income: $30,563
Monthly cost of living: $1,226
Median yearly income: $46,260
Monthly cost of living: $1,249
Median yearly income: $29,429
Monthly cost of living: $1,265
Median yearly income: $31,415
Monthly cost of living: $1,267
Median yearly income: $25,790
Monthly cost of living: $1,276
Median yearly income: $23,217
Monthly cost of living: $1,312
Median yearly income: $31,220
Monthly cost of living: $1,315
Median yearly income: $30,666
9. Oklahoma City, Oklahoma
Monthly cost of living: $1,320
Median yearly income: $31,626
Monthly cost of living: $1,330
Median yearly income: $25,341