6 Cleaning Resolutions That Are Actually Worth It, According to Experts
We independently select these products—if you buy from one of our links, we may earn a commission. All prices were accurate at the time of publishing.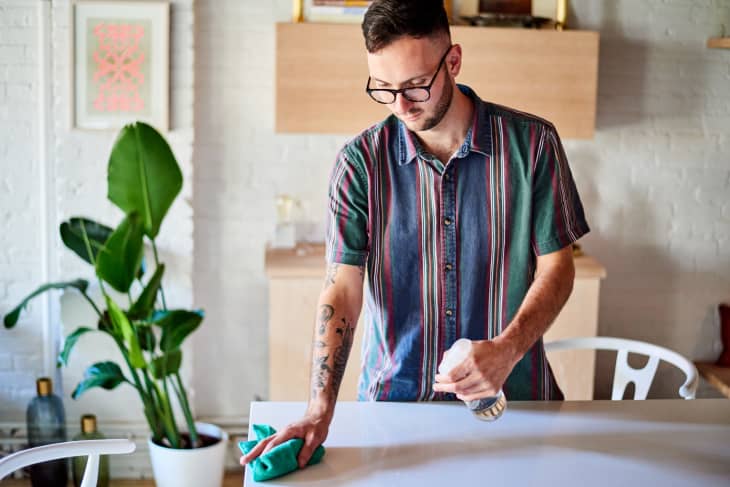 It's the new year and if you're feeling inspired to switch things up, you're not alone. You might decide to finally start that workout routine, create a budget that will help you save money, or finally get serious about reading more instead of watching television. Or, if you're anything like me, your New Year's resolutions might involve cleaning or organization habits. After all, what is a new, fresh year, if not the perfect time to put yourself on a regular vacuuming schedule or to invest in new sprays and soaps that will transform your home into its sparkliest, shiniest version?
Follow Topics for more like this
Follow for more stories like this
But like with most things, not all cleaning resolutions are created equal. Apartment Therapy spoke to a handful of cleaning aficionados who have strong opinions on the habits worth focusing on this year.
It can seem tempting to leave all the cleaning until the weekend (or just "later"). In reality, even a daily "crumb clean-up" can make a huge difference in how clean your house is, according to Michael Barnett, BLACK+DECKER Product Manager. "Not only is it therapeutic, but cleaning is a great way to maintain your space," he says. He suggests using a dustbuster, but you can also use a tiny countertop robot vacuum, or just a sponge or dish rag.
Finding small ways to minimize waste is an incredibly simple and incredibly effective New Year's resolution. Some ideas:
Choose microfiber towels over paper towels.
Switch to cloth napkins.
Find products with better packaging.
Start composting.
Never let being out of one particular cleaning solution or spray stop you from making sure your home is tidy and clean — especially when there are effective cleaning agents that can be made with things you probably have in your pantry right now. 
For example: "To clean your windows, all you need is water, vinegar, and dish soap," Ken Fisk, Director of Technical Services for Window Genie, a Neighborly Company says. "Two parts water to one part vinegar and a few drops of dish-washing liquid will suffice, although there are plenty of different measurements that will all yield positive results. Spray before wiping it away. Rinse the window with a small amount of water to avoid any film build up from the dish soap."
Get Rid of More Than You Keep
Remembering throughout the year to get rid of more than you keep is a quick and easy way to never accumulate more clutter than you (or your closets) can handle. 
"If you find yourself keeping more than you're tossing, ask yourself, 'If I was purchasing a new home and needed to transport everything, what is worth the effort of bringing along?'"
Scott O'Hara, Director of Operations for ShelfGenie, a Neighborly company says.
Make a Schedule — Stick to It 
When in doubt, make a schedule. And stick to it. As Vera Peterson, president of Molly Maid, a Neighborly company, explains: "Chaos can be kept at bay by putting 20 minutes a day away for little tasks. If you can manage one task a day, you won't have to spend all weekend cleaning."
Think of the last time you cleaned your house. Do you remember how much time you spent going from room to room, trying to gather the exact cleaning supplies you need? Change that in the year ahead by making convenient cleaning caddies, Peterson suggests. 
"We recommend creating two to three cleaning caddies that are each specially created for a specific area of the house: bathroom, bedroom/living space, and kitchen," Peterson says. "Each caddy should be stored in a convenient location for the room it targets and includes everything you need to get straight to work."