This Handy $13 Amazon Find Makes Carrying My Groceries a Thousand Times Easier
We independently select these products—if you buy from one of our links, we may earn a commission. All prices were accurate at the time of publishing.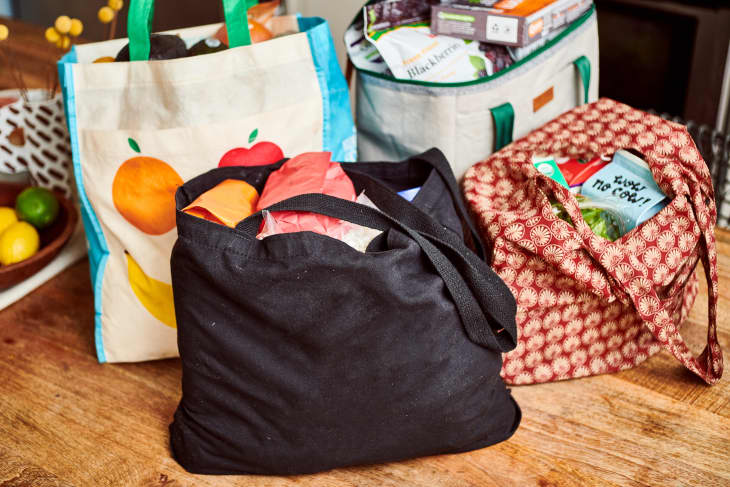 Anyone who's done a fair amount of shopping knows how easily simple errands can become a game of strategy when it's time to get the bags into the house. I can't count the number of times I've tested my strength by loading my arms with as many grocery bags as possible to get them to my upstairs apartment — the fewer trips back and forth, the better! I'd gotten so used to lugging everything around that I never considered that there might be an easier way. As it turns out, Click & Carry is the solution I didn't know I needed.
Click & Carry looks like a handle, it functions as a handle, but it does the work of many handles. Rather than straining myself with multiple grocery bags, the Click & Carry makes it possible for me to easily take everything upstairs in a single trip (maybe two if I have a big haul … ). This pocket-sized tool can hold up to 80 pounds. Trust me, with that kind of power behind it, you'll want to add Click & Carry to your shopping toolkit ASAP.
What made it a game changer for me is that you don't have to hold it in your hand; you can opt to prop it up on your shoulder. The first time I used my Click & Carry handles, it felt so natural to place them on my shoulders as I made the trek from the car to my apartment. The gel padding on the underside of the carriers made it comfortable to hold, and even though I was toting a lot of items, I didn't feel excessively weighed down. It also freed up my hands, so I wasn't struggling with bags while trying to get my keys to open the door. (Finally!)
Using Click & Carry is simple: Twist to open the top, hook bag handles inside, and close. (You'll hear a click when it opens and when it closes.) The top rotates 360 degrees, so as long as there's nothing jutting out, you can trust that the bags are secure. 
And even though it's marketed as a grocery bag carrier, you can use Click & Carry for so much more. I took a pair of handles on vacation over the summer and used them for our weekender bags when we were checking into and out of the hotel. They can also hold sneakers, paint cans, leashes, gym bags — practically anything with a handle! My favorite things to hook into the Click & Carry are my reusable, multipurpose Baggu bags. They come in solids as well as fun prints, and I use them for pretty much everything.
Click & Carry comes in five colors — pink, blue, green, purple, and black — and is available individually or as a two-pack. So far, I have purple and blue, but I am planning to add the other three colors to complete the set. They're just so handy to have around, especially if you're like me and try to get your shopping bags upstairs in one go every time. I (literally) never leave home without it.