We Tried a Dozen Bags of Medium-Roast Coffee Beans—And Found One Clear Winner
We independently select these products—if you buy from one of our links, we may earn a commission. All prices were accurate at the time of publishing.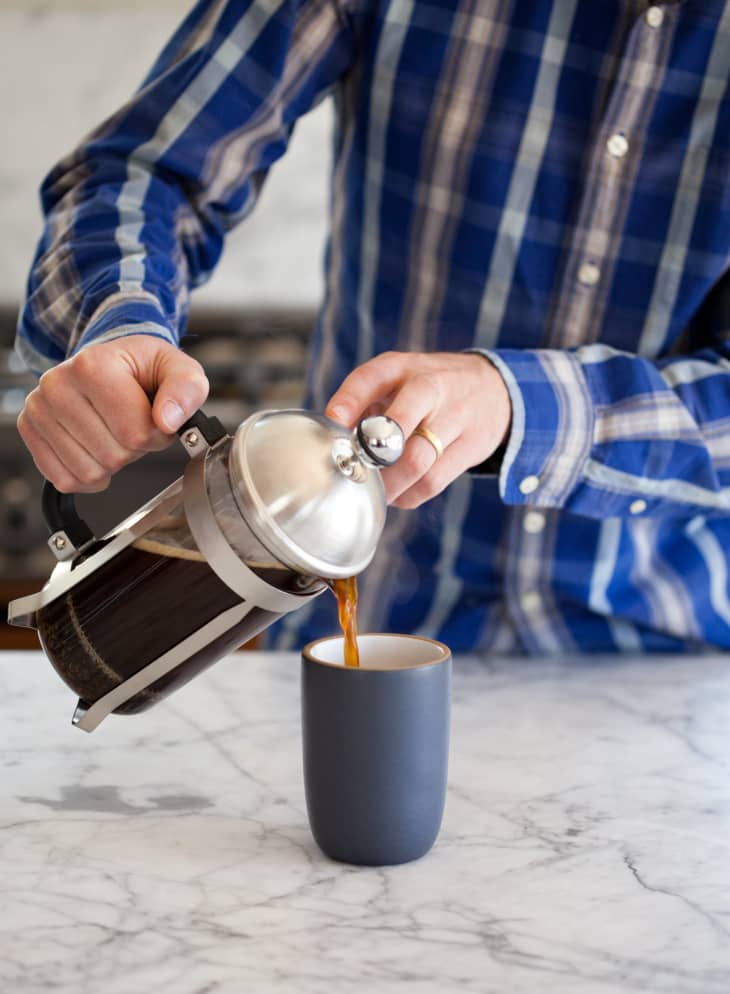 Great coffee is no longer solely the domain of fancy coffee shops. These days you can pick up excellent, expertly roasted beans in a wide range of varietals and styles at your closest supermarket—usually at a great price, too. 
I've already tasted through the array of dark roast ground coffees found at most supermarkets and found more than a few winners. This time, I wanted to find out who offers the best whole beans. After all, whole beans are the way to go if you want the freshest coffee, as coffee starts to lose its freshness (and therefore its flavor) as soon as it's ground. Plus, when you grind your own you can customize it according to your brewing method (i.e., coarse for French press, fine for Aeropress). 
Follow Topics for more like this
Follow for more stories like this
Because I had already tasted through the dark roast options, I set my sights on medium roast for this taste test. Medium roast coffees aren't roasted as long as dark roast coffees, so the flavor notes specific to that varietal of bean and its growing conditions come through better than they do in dark roast coffees. While dark roast beans tend to lean toward rich, bold, smoky, and chocolatey notes, medium roast beans tend to have bright, fruity notes (although some bean varietals are less fruity and more caramel-y). 
Most supermarket coffees are pre-ground, but I still found more than enough brands selling whole, medium-roast beans to make this experiment a serious test of my capacity to handle caffeine. With 12 bags in tow, I fired up my electric kettle, gathered a group of coffee-lovers, and got to work. 
The beans were ground using a burr grinder set at a medium grind for the pour-over brewing method. We used a metal filter cone instead of paper. The water temperature was 205 degrees Fahrenheit and the grounds were measured by weight: 13 grams (about 2 tablespoons) for 6 ounces of water. The coffees were all tasted blind. 
What we were looking for in each cup was a balance between acidity and richness, plus intriguing flavor and aroma notes to keep it from feeling one-note and boring. I'm happy to say not one of the 12 options we tried was disappointing. They were all quite good! One was definitely on the boring end of the spectrum, but it went down easily. Some were quite bright and acidic, with fruity berry notes. Others offered notes that hinted toward baked goods or graham crackers. It really depended on the varietal of bean that was used. In the end we found the tasting notes on the packages were in line with our own tasting notes, so if you're looking for a specific flavor profile, it really is helpful to read the bag. 
All the coffees we tried were very smooth and easy to drink with none of the bitter notes I associate with dark roast coffee. I actually prefer dark roast coffee because I like adding half-and-half, which rounds out the bitterness and leaves me with a rich, smooth cup. But the medium roast coffees didn't need any cream at all. If I ever decide to give up my decadent splash of dairy, I'll definitely start brewing medium roast beans.
The next day, we blind-tasted our top three choices to pick the winner. So which bag of beans rose to the top of our tasting?
This coffee blend includes Ethiopian Super Natural beans, which contribute a bright citrusy flavor and aroma. But those high notes were deliciously backed by buttery caramel notes that added sweetness, richness, and depth. Every sip was full-bodied, complex, and smooth with a touch of juicy brightness. Although none of the coffees we tried were disappointing, this one was the most interesting. Peet's also marks its roasting dates on the bag, so you can be choosy and pick the freshest one. Plus, it often goes on sale for around $7. 

Buy: Peet's Coffee Big Bang, $9 at Walmart
Do you have a go-to brand of coffee beans that you pick up at the grocery store? Tell us about it in the comments below!